In today's post, I want to talk about character profiles and how they can benefit your writing. Whether you are a plotter or a pantser, these questions can really help you get into your characters head and your writing to flow a lot better.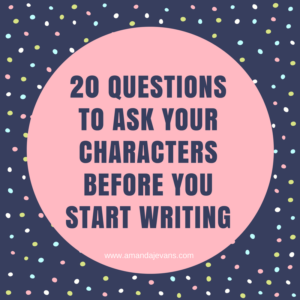 Why You Should Use Character Profiles
Besides the obvious character profile elements, there are a number of questions that you can ask before you begin writing your novel. These questions help you to really get to know your characters and how they tick.
The obvious questions are, of course, age, eye colour, hair colour, and general appearance, but there is so much more to know and hopefully, my 20 questions will open your eyes to the endless possibilities that are available. If you think of meeting someone new for the first time, it will help you to come up with questions to ask.
I suggest taking a couple of hours to do this exercise before you put pen to paper.
20 Questions To Ask Your Characters
What's your favourite food?
What foods make you gag?
What's your earliest childhood memory?
How many brothers and sisters do you have?
What was your childhood like?
What did you want to be growing up?
What hobbies or interest do you have?
Can you drive?
Who was your first crush?
What's your biggest regret so far in life?
Do you have any nervous ticks or habits?
What's the biggest lie you ever told and why?
Who were your heroes growing up?
Who had the biggest impact on your life?
If you could change anything about your life what would that be?
What's your current job?
How do you like to dress?
If you found yourself walking alone in a dark alleyway with the feeling of being followed what would you do?
What are your most afraid of?
What makes you laugh out loud?
There you have it, my 20 questions. There are lots more that you can add to this list and feel free to comment with ones that have worked for you too.
Until next time,
Keep reading and writing,
Amanda