Today on my blog I'm delighted to bring you an interview with author J M Davies. I'll let her introduce herself and answer all my questions.
Interview with Author J M Davies
Tell us a little bit about yourself?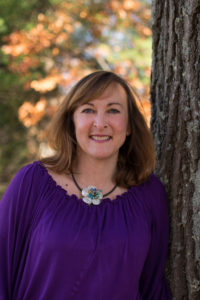 Hello everyone, I'm thrilled to be here as a guest author today. Thank you, Amanda Evans, for inviting me for a chat!
A few facts about me, my name is Jennifer Davies and I'm a fifty something mum with four boys, two cats, a dog, and a husband in tow. I have been married for twenty-one years this August to my best friend and strongest supporter. I'm originally from Wales in the UK which is why I have a funny accent, but I now reside on the East Coast of America in New England.
I have lived in North Andover for the past 14years, and it's a perfect distance from the city of Boston, the coast, and the mountains which I love. Living in New England has been a huge source of inspiration for me, but I find inspiration from many avenues, my family, my life, traveling and my persistence to keep writing. As a result, I always have ideas for future books.
I'm a former registered nurse/ midwife. I am always battling my weight, but as I'm addicted to chocolate, it's not a fight I will win anytime soon. I adore Grey's Anatomy. I love yard sales and get excited at the purchase of old furniture that I can recycle. My goal is to be a NYTimes best seller—one day!
How long have you been writing?
I have writing full-time since 2009.
When did you know you wanted to be a writer? Was it a gradual decision or did you just suddenly know?
I didn't always know that I wanted to be a writer. I have always loved to read, and I believe it is from that the desire and passion to create my stories developed.
What genres do you write?
I'm a romance author, but I like to try out different types of romance so my books range from suspense, contemporary, paranormal to fantasy.
What is your favorite story or character that you have written?
Wow, that is difficult. I think as I have a new release, I have say that at the moment I love The Rise of Orion series that I have created. The characters are all strong, edgy and emotional. I love Ella Master the MC because she is feisty and stubborn as well as beautiful and sensual. I also love working with Marcus Drayton her love interest and who wouldn't. He's sexy, a hard-core alpha-male who knows what he wants and won't let anything stand in his way, but when he meets Ella, the friction between them is palpable, and she evokes emotions he didn't believe he would ever feel again and if left vulnerable. There are always two sides to every character, and good parts and flaws too.
What time of day do you prefer to write?
I have over the years created a routine, and I try to stick to it. I love to be up early. I know people may hate me when I reveal this, but I am a morning person, not a night owl. Being a mom, I am up early and get everything out of the and the kids off to school and college so my writing can begin. I will write every day, whether I feel like it or not.
Do you have a special writing space?
I tend to write in my office which adjoins the kitchen, so not an ideal space. I have tried writing at the library and at the coffee shop, but never with much success. I get too distracted.
Do you outline your books ahead of time or just go for it?
The first book I wrote The Promise, I simply ran with it. That book took me four years to complete! Since then I like to think I have improved, and I try a variety of ways of plotting my book before I start. It usually begins with the idea for the story and a title, I have characters in mind, and I start with research and formulating a notebook, a very rough outline of cast, and storyline. I move on to compiling a set of index cards that are chapters and sit down to plot out each chapter which I assemble onto a cork board along with copies of pictures of main characters and pictures of places or themes I want to incorporate. This is a stage I want to work and develop the more stories I write because I have learnt that the more you lay out the plot the easier the writing is, for me anyway.
Who are your favorite authors?
Again, this is a hard question to answer because there are many. I admire the writing of Diana Gabaldon, Deborah Harkness, Cassandra Clare, Jodi Picoult, Patricia Cornwell, J. D Robb, Christine Feehan, but I'm always discovering new authors such as Amelia Hutchins of The Fae Chronicles and Amy Bennet whose writing inspires me to try harder!
Your latest book The Witch's Heart is the second book in The Rise of Orion paranormal romance series. Tell us about it?
I always wanted to write a paranormal romance because I've read so many it was natural to feel the need to write my own. I love all possibilities and I wanted to explore reincarnation. My main character Ella Masters is a soul-shifter born of the clan of Arianna the moon goddess and as such she has lived other lives. In her first life in the 16th century, she was hung as a witch and that title has followed her in each life. It is a soul mate story about love, betrayal, love and forgiveness. The message I think in the Witch's Heart is that we are not perfect. We all make mistakes. The question is can we accept them in those we love and still feel the same way about them. Love is a challenge in itself.
Is this a series and if so how many books are planned for the series?
Yes, it's the second book in The Rise of Orion series. I'm not sure how many, whilst I have ideas to develop around the team and characters I will keep writing about them. This book releases today, 1st of August an I believe you have the description and book cover at the end of the interview.
When is the next book due out?
I don't have an official date for my next book after this, but probably early 2018
Where can readers find out more about you?
Twitter: https://twitter.com/jendaviesuk
Facebook: https://www.facebook.com/J-M-Davies-516414605190041/
Amazon Author Page: https://www.amazon.com/J.M.-Davies/e/B06Y6DY5B6/
Instagram: https://www.instagram.com/jengal124
Website: http://www.jenniferowendavies.com/
Blog: http://welshjensblog.blogspot.com/
Is there are a question I haven't asked that you would love to answer?
If there are any readers out there that would like to become a Beta-reader for me I'm always looking. I need avid romance readers would be able to commit to reading early chapters and giving feedback on characters and plot. They would in return get a mention the credits and advanced copies!
The Witch's Heart (The Rise of Orion Book 2) by J M Davies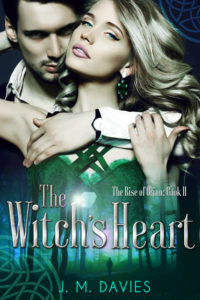 Secluded away in a mansion on the rugged coast of Maine, pregnant, soul-shifter, Ella, should be happy. Instead, knowing the sinister Professor and the nefarious Elusti are out there and want her baby, she's tormented with dread for the future.
Stubborn ex-navy SEAL Marcus refuses to forgo his mission with the security team Orion even after his beautiful wife dreams him dead, but insists, she remain at the high-tech fortress to be safe.
However, you cannot outrun destiny because it lurks in the darkness —
waiting.
When Ella's worst fears materialize they are both shattered by loss and guilt. Each blames the other. Putting aside their personal tragedy they work together to bring down their enemies but at what cost? How far would you go to keep the ones you love safe?
The Witch's Heart releases today and is available on all Amazon stores. Click the link below to purchase.
Buy on Amazon US: 
Buy on Amazon UK
I hope you've all enjoyed reading Jennifer's interview as much as I did and I hope you'll all follow her on social media and take a look at her books on Amazon.
Until next time,
Keep writing & reading
Amanda