I really am enjoying my NetGalley membership this year. I've just finished my third book and this time it was a sci-fi mystery book called We Care For You by Paul Kitcatt. I've included my full review below as well as the books description and Amazon buy links.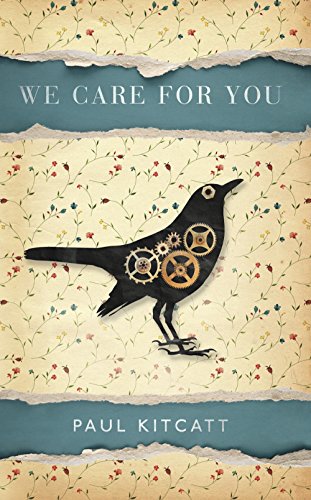 We Care For You by Paul Kitcatt – My Review
I received an advanced copy of this book from NetGalley. The story revolves around Margaret, an 87-year-old lady, who resides in a nursing home. The nursing home gets new owners and things really start to change. John, Margaret's son agrees to her receiving care from her new helper Winifred who is, in fact, a robot. Margaret hasn't been able to see properly for the last 7 years and spends most of her time sitting curled up in a chair in her room. She also suffers from dementia.
The story centres around the introduction of the new helpers in the Nursing home and Margaret's relationship with Winifred.
When nanobots are introduced into the elderly patients in the home things really start to change. Margaret wakes up one morning and can see clearly. Her memory has returned and within days she is up and about admiring the garden.
The changes in all the patients are astonishing and reporters and journalists are camped outside trying to get the story.
I don't want to give anything away about how the story unfolds, but I will say this was a really enjoyable read. The writing was flawless and I loved reading Winifred's POV. It was interesting to read from the point of view of a robot and it was really well done. The book although science fiction does touch on some real subjects, namely the mistreatment of the elderly in care homes. It also makes you think of how important old people are and how often they can be forgotten. They hold so much knowledge and many are extremely lonely. The author makes you think.
I would recommend this book to anyone looking for an enjoyable read with well-developed characters, flawless writing, and a great storyline.
We Care For You – Book Description
Margaret Woodruff is slowly dying in a care home. When her son is presented with the chance of exceptional care in her final months, he finds the offer hard to resist.
Winifred is assigned to Margaret's care. She's a Helper: a new kind of carer that's capable, committed and completely tireless – because she's a synthetic human being.
Under Winifred's care, Margaret's health improves beyond everyone's expectations, and Winifred begins to learn from Margaret what it means to be alive. After all, she has a lifetime of experience to pass on – and in a world where youth is the ultimate prize, perhaps it takes a robot to recognise the value of old age.
But how will Winifred use what she learns from Margaret – and what does she truly want from her?
This book is available to buy now.
Amazon US: https://www.amazon.com/dp/B077H4LGHK
Amazon UK: https://www.amazon.co.uk/dp/B077H4LGHK
Until next time,
Keep reading and writing,
Amanda