Last week I had the pleasure of reading Death Made Me by Keeley Webb and I've posted my review below along with the book cover and description.
I absolutely loved this book and was gripped from the very first page. The author weaves an amazing tale of love and loss and the lessons learned in death. The writing is flawless and I loved the tone and style. The first half of the book tells Barry's story and I loved all the characters and how they interact. I also loved the end of his section where he took his mother upon her death to be with his father. There were lots of moments throughout where I had tears in my eyes. Part two of the book is Emily's story and once more I was gripped. I loved everything that happened and how all the characters grew and matured as the story continued. I found everything so believable as if I were a part of the story and this is what makes a great book for me. Being able to immerse myself in the story and become the characters. This truly was an amazing book and I can't wait to read the sequel. This is one author I am adding to my watch list. If you are looking for something a little different that will grip you from the start and have you turning the pages, then this book is a great choice.
Death Made Me by Keeley Webb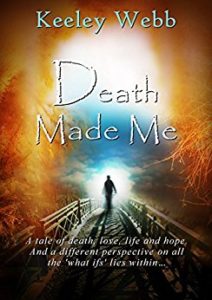 Some people live each day as if it were their last, embracing every possibility. What if today was your last day? Have you lived enough?
Barry never took chances. Today he tried. Katherine was out of his league: beautiful, kind, well-travelled. What would she ever see in him?
Successful in his line of work, but sadly lacking in every other aspect of life. On his last day, he got his wish to be with Katherine. Only, fate bestowed a bittersweet irony upon him, forcing him to watch as she was mistreated by the one person he hated the most.
Unbeknown to them both, Barry would leave a mark on Katherine's life that would impact generations of her family yet to come.
A tale of death, love, life and hope. And a different perspective on all the 'what ifs' lies within…
Warning mature themes
Buy now on Amazon: http://amzn.to/2uEuSfT