I had the pleasure of reading another of Katy Regnery's books last week. This time it was Unloved, a love story. The cover and blurb is below followed by my review.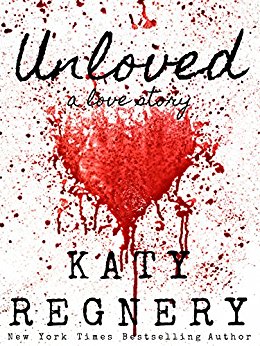 Katy Regnery – Unloved, a love story – Blurb
From New York Times and USA Today bestselling author Katy Regnery comes a unique story about the sins of the father…and the burdens of the son.
My name is Cassidy Porter…
My father, Paul Isaac Porter, was convicted twenty years ago for the brutal murder of a dozen innocent girls.
Though I was only eight-years-old at the time, I am aware – every day of my life – that I am his child, his only son.
To protect the world from the poison in my veins, I live a quiet life, off the grid, away from humanity.
I promised myself, and my mother, not to infect innocent lives with the darkness that swirls within me, waiting to make itself known.
It's a promise I would have kept…if Brynn Cadogan hadn't stumbled into my life.
Now I exist between heaven and hell: falling for a woman who wants to love me, while all along reminding myself that I must remain…
Unloved.
My Review of Unloved
What can I say? I love Katy's books especially her modern fairy tales. Unloved is a romance novel with a hero that will make you swoon. Cassidy is tormented and believes with every fibre of his being that he should remain unloved for the rest of his life so when he rescues Brynn and starts to fall in love with her, confusion takes hold.
Brynn is grieving the loss of her fiance and with a final bid to let go of the past and her grief, she visits his favourite place to bury the last piece of him she has – his mobile phone.
This really is a lovely second chance romance story with all the feels needed to make it perfect. I loved the twist at the end. I loved both characters, and as always I loved Katy's writing style.
If you want a lovely romantic book to read that will leave you feeling uplifted, this is the perfect choice. A definite 5 star review from me.
Unloved is available now in ebook and paperback formats from Amazon. Click here to buy now. I also highly recommend checking out Katy's modern fairy tales, They are excellent.
Until next time,
Keep reading and writing,
Amanda