In the last couple of weeks I read two excellent books that I am adding to my best book reviews 2016 list. The first of these is A Thousand Boy Kisses by Tillie Cole. The second is Reckless by Maggie Shayne.  Below are my reviews for these books.
A Thousand Boy Kisses by Tillie Cole (Book Reviews 2016)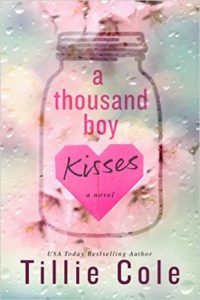 This is a teen and young adult romance story that is recommended for ages 14 and up. Before I tell you about this book, I have to warn you to have a box of tissues to hand when you do start reading. This is a tearjerker and I found myself crying and sobbing so many times. This is a powerful love story that is beautifully written.
The main characters are Poppy and Rune and their story is one of true love that lasts for an eternity. The story begins when they meet and continues over the years. The idea of the 1000 kisses is so original and really makes the story stand out. I refuses to give spoilers in my reviews as I feel this takes away from the reading experience. What I will say is that Tillie Cole is a master storyteller. She brings out the emotions and really lets you connect with the characters. The writing is excellent and the story is full of twists and turns. This is a beautiful book and I'm so glad that I listened to other recommendations and bought it. The ending was superb and just what was needed to finish the book and tie everything together. If you are looking for a tearjerker that will have your heart exploding then this is it. Don't let the young adult category put you off, I'm nearly 40 and I loved it.
Here's a snippet from the book description on Amazon.
[su_quote cite="Tillie Cole"]One kiss lasts a moment.  But a thousand kisses can last a lifetime.  One boy.  One girl.  A bond that is forged in an instant and cherished for a decade.  A bond that neither time nor distance can break.  A bond that will last forever.  Or so they believe.[/su_quote]
Amazon UK link: http://amzn.to/1t4Ser5
Amazon US link: http://amzn.to/24vUaEX
Reckless by Maggie Shayne (Book 1 in the Shattered Sisters Series)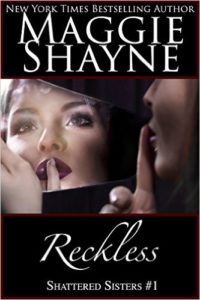 This is a romantic suspense novel and is free on kindle. It is book 1 of the series but it can be read as a standalone.  This book tells the story of Nick and Toni and there is plenty of action and suspense. I have been reading quite a lot from this author recently and her storytelling is amazing. I really enjoy her style and how she builds her story from page to page. I have never been a fan of crime or thrillers but since reading some of her books I have started to develop a taste for it.  I enjoy the action and the suspense element that is interwoven with the romance in each of her books and it has encouraged me to start reading more in this genre.
The characters in Reckless are well developed and Maggie has an excellent writing style. Toni's character was strong and not a whiny woman by any means. She is smart, quick witted, and not afraid to stand up for herself. This book will keep you guessing and turning the pages to see what is going to happen next. Can Nick save Toni? Can Toni save Nick? And of course will they be able to save each other? If you enjoy thrillers and romance then this romantic thriller is an excellent choice.
Amazon UK link: http://amzn.to/1t4T4nT
Amazon US link: http://amzn.to/1Y5ScLA
Please note that these book reviews contain affiliate links so if you do purchase them I will receive a tiny commission from Amazon.
Until next time,
Amanda