Fiction by Amanda J Evans
Save Her Soul – Paranormal/Urban Fantasy Romance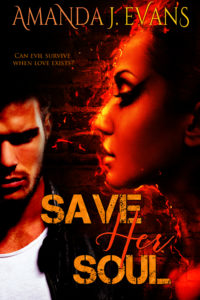 Can Love Survive When Evil Exists?

Almost a year after the brutal murder of her sister, Kate's world is anything but ordinary. Consumed by the rage in her soul there's nothing she won't do to get her revenge.
Drake's no ordinary guy. Dead for nearly 500 years, he's been tasked with saving Kate's soul but he has a mission of his own: to ensure she gets what she wants so that he can take her soul to hell. He'll stop at nothing to see her succeed, but their fates are tied and love may stand in his way.
As secrets are revealed, can one cursed soul end it all? Is love strong enough to overcome evil and break the curse that binds them both?
Find out in this new paranormal romance by Amanda J Evans.
Available in Paperback and Kindle Versions and Free on Kindle Unlimited
Amazon US: https://www.amazon.com/dp/B073XTZ2DQ
Amazon UK: https://www.amazon.co.uk/dp/B073XTZ2DQ
Read the first 6 Chapters (12,000 words) FREE on Instafreebie 
Mermaids Shouldn't Run – A Short Romantic Comedy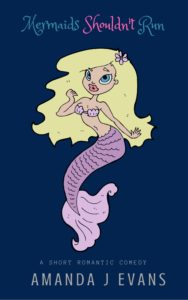 A fancy dress party, a mermaid outfit, and 5-inch stilettos. Sounds like fun but for Miranda, it was anything but.
Vivid dreams involving a mystery man asking for help, a friend with a knack for turning everything into a story for the newspaper, and a hospital stay are all combined in this hilarious romantic short story.
Will Miranda discover who her mystery man is?
Will Lesley ever stop laughing at her?
Find out in this funny short story from new author Amanda J Evans
Here's what others are saying about Mermaids Shouldn't Run
"Hilarious. The conversations between Miranda and Lesley has me laughing out loud so many times."
"So funny. I could picture everything happening in my head. The perfect lunch time read."
"A wonderful light romantic comedy. My colleagues wanted to know what was so funny because I kept laughing."
"Can't wait to read more from this author. I loved the dialogue and the references to Orange is the New Black and 50 Shades of Grey."
Buy Now for $0.99 or Free on Kindle Unlimited
Amazon US: https://www.amazon.com/dp/B06XDGZ71H
Amazon UK: https://www.amazon.co.uk/dp/B06XDGZ71H
Finding Forever – A Romantic Suspense Novella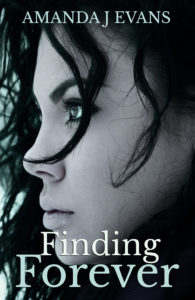 When love refuses to give up
I look at his face, the face of the man who holds my heart, my forever, only his heart has stopped beating.
A woman desperately searching for her forever….
Liz Parker thought she'd found her forever the moment she said "I do", but fate had other ideas. Waking up with a tattered wedding dress and her dead husband in her arms was not the way she planned her honeymoon. Distraught, she promised she would follow him. Death wasn't taking forever away from her. Of course, she hadn't planned on being rescued by pirates either, or the fact that Charles' body would be left to rot on the beach.
Two lives collide…
When Liz meets John, he becomes her only hope, her chance to bring Charles' body home, but there's something more. Why does he look at her with such pity? Why does he agree to help her when no one else will? Why won't anyone believe that Charles exists?
Is Liz going mad?
Find out in Finding Forever the debut novella from Amanda J Evans. A blend of psychological thriller mixed with romance and unexpected twists. Finding Forever will prove to you that when you believe in love anything is possible.
Praise for Finding Forever:
"Really enjoyed it….didn't want to go to bed without finishing it….brilliant" Maria B Bourke
"I really enjoyed it. The suspense kept me reading to the end." Lesley Robson
"Fantastic story! Kept me gripped from the beginning. The twists were amazing." Sarah Ellis
"Absolutely brilliant. It was great. Action, intrigue and romance all rolled into one neat tidy package." Terri Osborn
Available in Paperback and Kindle Versions and Free on Kindle Unlimited
Amazon US: https://www.amazon.com/dp/B01MY9IPZG
Amazon UK: https://www.amazon.co.uk/dp/B01MY9IPZG
Amazon CA: https://www.amazon.ca/dp/B01MY9IPZG
Amazon AU: https://www.amazon.com.au/dp/B01MY9IPZG
Mistletoe Magic – A Short Christmas Story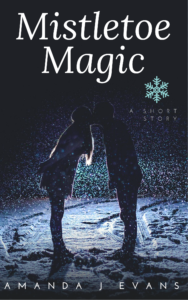 Cassie Blake had always loved Christmas, but this year she wanted to hide from the festivities. Hosting the annual Christmas party was not what she had planned and she certainly didn't want to be reminded of the disaster that happened after the last party she hosted either. A broken heart and debt is what her Grandmother's magic mistletoe had brought and Cassie was determined that it would never happen again. Find out how Cassie gets her Christmas spirit back, and how her Grandmother's magic works in this short Christmas story. Available to read for free on Wattpad. https://www.wattpad.com/story/90703462-mistletoe-magic
This is a short story filled with magic and delight to bring the spirit of Christmas to all. Be sure to follow me on Wattpad while you're there as I plan on releasing some further titles here too.
Non-fiction by Amanda J Evans
All of the titles are available on Amazon and free if you have a subscription to Kindle Unlimited.  Even if you don't own a Kindle, you can still read all of these books using the free Kindle app that is available for all devices. There is also a free cloud reader app and a desktop installation for PC users.  If you need any help or further information you can contact me and I will be happy to assist.
Messages From The Angelic Realms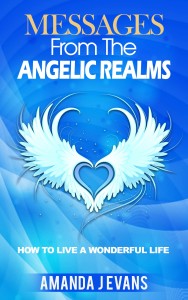 Angels are all around us, but for many, they remain invisible and their messages unheard. This book contains messages for everyone to read and they have been channeled by Amanda J Evans to share with the world. These messages have been compiled to inspire and guide the human race so that peace and love may prevail.
This book is available in paperback and ebook editions.
If you would like a signed paperback copy of this book please contact me using the form on the contact page.  A limited number of signed copies are available and these will include a personal channeled message for the person the book is going to.  More information can be provided on request.
Here's what some reviewers have to say:
An uplifting and inspiring book. The overall message is how you can find peace and happiness in life if you find the courage to make changes to make your life better. From world peace, change, life dreams, faith, possibilities, healing, vibrations, inspiring others…if you believe in the possibilities of Angels and even if you don't, there is an undeniable truth and wisdom that will resonate as you turn the pages of this uplifting and inspiring book.
By Katy Brodsky – 5*

Highly recommended. This new book of channeled readings with the angels of heaven should be praised to the skies because that is where it comes from.  The readings from Amanda Evans are original, clearly stated, and always consoling and helpful in dealing with real-world problems. They are poetic and most enjoyable to read.
By Maggie – 5*

Very inspiring. The messages with this book have really inspired me to learn more. I Listened to most of the book using the text to speech function on kindle and I felt so peaceful hearing these words. I think this is a book I will read many times.
By Sunshinecoach – 5*
Messages from the Angelic Realms (paperback)
Messages from the Angelic Realms (kindle edition)
Surviving Suicide: A Memoir From Those Death Left Behind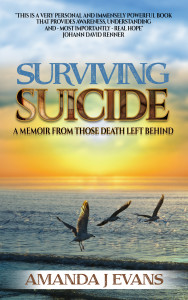 Surviving Suicide: A Memoir From Those Death Left Behind tells the story of one families struggle with suicide and how it affected them.  A portrayal of the pain and suffering felt by the survivors of suicide. This book lets you step inside the mind of one woman and how she has learned to survive the suicide of her father. The book also includes the writings of her mother and sister who also tell their story. You can re-live their experiences and explore the reality of what suicide really does to those who are left behind. The aim of this book is to promote suicide awareness and help prevent others from having to live through this suffering.  Below are some of the headings from the reviews this book has received.
"This is a very personal and immensely powerful book that provides awareness, understanding and – most importantly – real hope" October 23, 2012

"Heart-wrenching but with a message of hope" November 24, 2012

"This is a very personal and immensely powerful book that provides awareness, understanding and – most importantly – real hope"November 22, 2012
This book is available in paperback and kindle editions from Amazon.
From Those Death Left Behind – Paperback
From Those Death Left Behind – Kindle edition
Angels: Understanding, Recognizing and Receiving their Assistance using Oracle Cards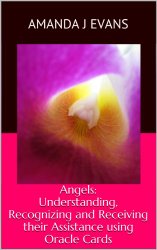 Angel card readings can be really accurate and give you some comforting guidance just when you need it the most. We all have within us the capability to read the cards. The most important thing that we can do is, believe in ourselves and our ability to communicate with the Angels. Throughout this book, you will find information on how to connect and communicate with your Angels through the use of Angel Cards. This is a very comprehensive book covering all aspects. It includes information on various Angel Card Spreads, colours and your cards, archetypes and more.
Angels are beings of light and love and they emerge from purity of consciousness. They can teach us to have joy, laughter, peace, happiness, share kindness and appreciate beauty. They are here to heal us, guide us, assist us, and above all, lead us to connect with your creator self within.
Angels can of course, become so much more and as you connect with and work with your angels you will come to understand exactly what I mean. Angels can give you guidance on all aspects of your life and help steer you in the right direction.
Using the book you will be able to connect with the angels, receive guidance using angel cards, recognize when you are working with the angels and so much more. Included you will find information on the different Archangels and how to call upon them and what they can help you with, the different meanings of colors and how they relate in readings and so much more.
I was looking for something more about Angel Oracle Cards.The booklets that come with Doreen Virtue's angel oracle and tarot card decks only have so much room in them; I was often left with questions about various things. Enter this book, exactly what I was looking for!
By Nancy C. Beck – 5*

Interesting.this book was easy to read, no 'mambo-jumbo' nor bigotry toward alternate belief systems. It deserves 5 stars and a wide readership. Quite interesting.
By Reggie – 5*
This book is available for Free on Kindle Unlimited and as a normal Kindle purchase
Angel Guidance and Card Reading – Amazon UK
Angel Guidance and Card Reading – Amazon US