Standalones
Click on the book covers below to go to the dedicated book pages for more information including buy links, sample chapters, what readers have been saying and more.
Non Fiction Titles
All of the titles are available on Amazon and free if you have a subscription to Kindle Unlimited. Even if you don't own a Kindle, you can still read all of these books using the free Kindle app that is available for all devices. There is also a free cloud reader app and a desktop installation for PC users. If you need any help or further information you can contact me and I will be happy to assist.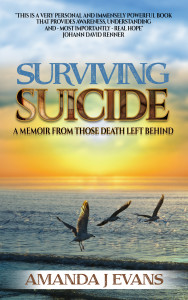 Surviving Suicide
Surviving Suicide: A Memoir From Those Death Left Behind tells the story of one family's struggle with suicide and how it affected them.  A portrayal of the pain and suffering felt by the survivors of suicide. This book lets you step inside the mind of one woman and how she has learned to survive the suicide of her father. The book also includes the writings of her mother and sister who also tell their story. You can re-live their experiences and explore the reality of what suicide really does to those who are left behind. The aim of this book is to promote suicide awareness and help prevent others from having to live through this suffering.  Below are some of the headings from the reviews this book has received.
This book is available in paperback and Kindle editions from Amazon.
From Those Death Left Behind – Paperback
From Those Death Left Behind – Kindle edition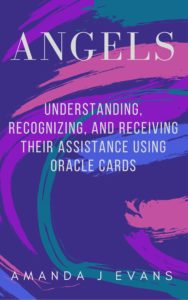 Messages From The Angelic Realms
Angels are all around us, but for many, they remain invisible and their messages unheard. This book contains messages for everyone to read and they have been channelled by Amanda J Evans to share with the world. These messages have been compiled to inspire and guide the human race so that peace and love may prevail.
This book is available in paperback and e-book editions.
If you would like a signed paperback copy of this book please contact me using the form on the contact page.  A limited number of signed copies are available and these will include a personal channelled message for the person the book is going to.  More information can be provided on request.
Messages from the Angelic Realms (Paperback)
Messages from the Angelic Realms (Kindle edition)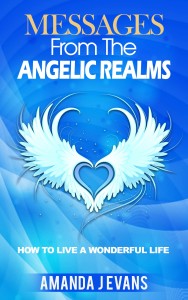 Angels: Understanding, Recognizing and Receiving their Assistance using Oracle Cards
Angel card readings can be really accurate and give you some comforting guidance just when you need it the most. We all have within us the capability to read the cards. The most important thing that we can do is, believe in ourselves and our ability to communicate with the Angels. Throughout this book, you will find information on how to connect and communicate with your Angels through the use of Angel Cards. This is a very comprehensive book covering all aspects. It includes information on various Angel Card Spreads, colours and your cards, archetypes and more.
This book is available for Free on Kindle Unlimited and as a normal Kindle purchase
Angel Guidance and Card Reading – Amazon UK
Angel Guidance and Card Reading – Amazon US