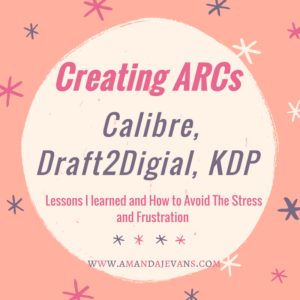 These past two weeks have been extremely busy for me in the lead-up to the publication of my first fiction book. Finding Forever was a joy to write and it reminded me of why I love to write. Romance is a particular love of mine so being able to create a story that fulfilled this was so important. I have, to be honest, though, writing the book was the easiest part. Marketing and getting my work noticed is proving to be a lot more difficult.
Last week I began the difficult task of creating ARCs (Advanced Review Copies) and I thought I would share the process with everyone.
Creating ARCs – Calibre, Draft2Digital, and KDP
Creating the cover for my ARCs was by far the easiest part of this process. I went to Canva, uploaded my e-Book cover, and then just added a text box saying "ARC Copy – Not for Sale". Simple…
Next, it was time to create a mobi file. I already knew my conversion was perfect as I'd uploaded my file through KDP and checked the online previewer. It looked great, but I needed to use an ARC book cover and from research, Calibre seemed to be a good choice.
I already had Calibre downloaded so I uploaded my word file, added the cover, the meta data, etc, and hit convert. The result….terrible. My book looked terrible. There were page breaks where there shouldn't have been, line spacing was off, my chapter headings were massive, and I knew there was no way this could be sent to anyone.
I spent a lot of time formatting my word document, adding in book ornaments for chapter headings, etc., and I wasn't compromising on the look. I immediately went to Google for help and discovered that Calibre automatically puts a page break in before every H1. Great, now I knew why my book ornaments were on one page and my chapter name on the next. This was an easy fix, thanks to Google, and a quick change of settings and I was ready to click convert again.
How did it turn out?
Terrible.
Half of my book ornaments were fixed. Half of them weren't. The line spacing was still off for some of my content and not for the rest.
Another visit to Google and I discovered that Calibre adds in line spacing too. Again I adjusted the settings and hit convert.
The result – most of my book was fixed line spacing wise. The end two chapters looked like they were written in double spacing.
After a couple of hours, pulling my hair out and getting frustrated, I asked for advice in one of my book groups. A suggestion to use Draft2Digital was offered. The person said D2D did an excellent conversion job. I'll explain my results below.
Conversions to Mobi Using Draft2Digital
Creating an account was a simple process as was uploading my word document and book cover. I added my meta data, selected categories, keywords, etc, and clicked convert. This process gives you a mobi and epub file.
The results – Dreadful.
The line spacing was off. The chapter headings were again way too big, and it just didn't look right. I knew straight away I wasn't going to be using these files either.
The whole process of creating ARCs was turning into a nightmare. How could the file possibly look perfect on KDP and yet come out all wrong on all these other programs? I didn't have the answers.
The next option was to use Scrivener. I have a free trial version of Scrivener, but I haven't used it, and I knew there was a steep learning curve. After a very long day of trial and error, and a lot of hair pulling, I finally gave up. I'd figure it out tomorrow.
Creating ARCs with KDP
The next morning, feeling more confident, I went to my KDP dashboard, pulled up my book that was saved as a draft and changed my book cover to that of the ARC. I used the online previewer and checked everything. The file was perfect. My book ornaments were in the right place, the chapter names were the right size, and the line spacing was exactly the way I had formatted it.
I downloaded the mobi file to my computer and that was that. I now had my ARC file to send to my reviewers.
I don't know why I didn't think of doing this first. I would have saved myself a lot of trouble.
Once I had my ARC file, it was a simple matter of changing the book cover back to what it should be and finishing the process of making my book available for pre-order.
My lesson – use what works.
KDP worked for me when all the other programs failed.
I hope this post helps you, and if you find yourself frustrated with the process of converting your files, rest assured you're not the only one. The search results prove that using Calibre is not as easy as it seems.
Until next time,
Keep writing,
Amanda