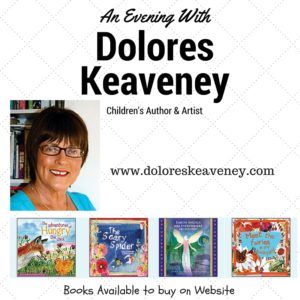 Yesterday evening as part of Oldcastle Writers Group, I had the privilege of meeting Dolores Keaveney children's author and artist. It was a wonderful night and this lady is such an inspiration. Dolores is a self-published author and her books are beautiful. She told us all about the self-publishing process from start to finish and even read from one of her books. It really was eye opening and I hadn't realised there was so much to do when it comes to writing and publishing a children's picture book. You have to write the book, design a front cover, create the book in InDesign, print a mockup, edit, edit, edit, and then have print copies done for reviews. There really is a lot involved including getting your ISBN from Nielsen, a UK company. You also have to find someone to do you a bar code if you are self-publishing too.
It was really great having an expert on hand to explain the process and she was so helpful answering any questions that we had. Dolores paints all the pictures for her books too and a couple of years ago one of her designs was purchased by a pottery company and a collection of delph was created. I can only imagine how proud I would feel if a company were to use some of my words in one of their product designs. You can find out much more about Dolores and her children's books by visiting her website www.doloreskeaveney.com.
Below is a very short video of Dolores reading from one of her books:
[su_youtube url="https://www.youtube.com/watch?v=kxUZ34fDVbs"]
Dolores Keaveney Top 10 Tips For Self-Publishing Children's Books
Write the book
Edit your books over and over again until you are entirely happy with it
Apply to Nielsen for ISBN – http://www.isbn.nielsen.co.uk
Design your front cover
Get your book type set – you may need to hire a graphic designer for this or if you know how to use InDesign you can do it yourself.
Print a mockup
Print copies for review and submit them to people you would like to review your book
In Ireland, you can submit your book to Easons and Argosy and you should do this at least 8 to 10 weeks before your launch.
Decide on a launch date and how many books you will have printed
Send your book to the printers – then sit back and wait for them to arrive.
Marketing For Authors is Essential – Dolores Keaveney Tips
To sell your book you will need to do some marketing. This will include:
Setting up an author website
Submitting your books to libraries for their catalogue: You can send one book to the British Library UK, 5 books to Trinity College, and one book to the National Library of Ireland.
Register your book on PubWeb online Neilson
Submit your book to libraries throughout the country to see if they will buy it.
Contact all the bookshops: You can send an email telling them about your book and asking if they would like to purchase it.
Sell at craft fairs
Set up social media accounts: Facebook, Twitters, Amazon Author Page, Goodreads
Get your book into the newspapers: This local for this, do your homework and try to promote the story as "Local author publishes book…..
Contact everyone you know and let them know about your book so you can accumulate reviews for your website and social media sites.
Have book signings and try to book a reading in your local library or school.
Most importantly, enjoy the process and don't take everything too seriously.
I love the last piece of advice from Dolores Keaveney and if you had met her last night you would really understand this. She is such a positive lady that reminded us all to live in the present and enjoy life. I wish Dolores the best of luck with her books in the future and am delighted to have added some new signed books to my collection too.
Until next time,
Amanda