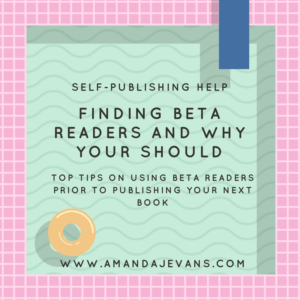 Today I wanted to talk about finding beta readers and why you should. As you know, I finished writing my first novella, Finding Forever, back in September 2016. Taking the advice of all the editors I know, I let it sit on my computer for at nearly two months before I went back to begin editing. After my first round of edits, my inner critic was on overtime constantly whispering in my ear about how bad it was, how no one would like it, how I would fail, etc. I wasn't sure what to do. I knew I could rely on the members of my writers' group to read and comment on my work, but was that going to be enough?
After discussing things with my husband, he suggested I get strangers to read my book. They would provide honest feedback. I thought about it and decided he was right. Now all I had to do was figure out how to do this.
Finding Beta Readers
I did what I always do when I need any writing-related help and that was to visit the book and author groups on Facebook that I am a member of. I added a post asking for help on how to find beta readers and if anyone had any tips of information on what I needed to know.
Within minutes I had people volunteering to read my novella. I was thrilled. I sat down and replied to everyone detailing my requirements. I wasn't looking for proofreading or editing. I had someone to do all this for me. What I wanted from my beta readers was an honest, reader reaction to my story. I wanted to know if there were plot holes, if they liked the characters, if the story flowed and so on.
I had about 20 to 25 people that agreed to read finding forever and it was a fantastic learning experience. Of course, I waiting anxiously for replies, praying that they wouldn't hate my work. When I received my first message back from one of the beta readers, it took me over five minutes to open it. I was terrified. When I eventually did open it, I was blown away by the response. Now only was the beta reader enjoying my story, she had written to let me know she was on page 30 and couldn't put it down. I let out the biggest sigh of relief ever.
All of my beta readers enjoyed what I'd written and there were only a few little fixes required on my next round of edits. It was a wonderful experience and here are a few things I think you should know if you are looking for beta readers.
Instructing Beta Readers – What I learned
Always know what you want from your beta readers before you send them your file.
It helps to make a list of the areas you would like them to focus on.
If you want to know if your plot works state this
If you want help with proofreading and typo spotting – say so
If you just want a general reader reaction – state this

Beta readers can be your best friend when it comes to revising and polishing your book for publication. They can be the first outsiders to read your book and let you know exactly what they think. They are honest and to really benefit they should be people you don't know. Friends and family are great but they know you and they won't want to hurt your feelings. Beta readers will tell it as it is. If they don't like something, or something confuses them, they'll let you know.
Where to Find Beta Readers
As with everything this will differ for everyone and depend on the genre you write in. I found all my beta readers on Facebook as this is the social media platform that I prefer. Others may find them on Twitter or Instagram.  Whichever works best for you. I am a member of lots of different writers groups on Facebook and whilst a writing information group gave me lots of helpful advice on what beta readers can do and about protecting my files, my actual beta readers came from a romance readers group that I am a member of. Remember, it really doesn't matter where you get your beta readers from once you give them clear and concise instructions on what you are looking for.
It's hard as a new writer and we all have the nasty inner critic that likes to pop up and tell us how bad our writing is. Beta readers can help you to iron out any little bumps in your novel before you get to the publishing stage and in my opinion will become a stable part of my writing process from here on out.
I hope you enjoyed this post,
Until next time,
Keep writing.
Amanda