Finding Forever my romantic suspense novella is on sale for just 99cents until the 4th of September. The sale price is available in Kindle, iBooks, and Kobo so if you haven't already read it, now is your chance to grab it.
Finding Forever: Book 1 of the Finding Series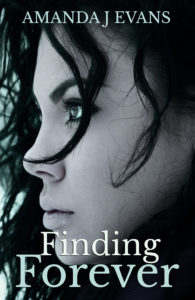 When Liz wakes up on a beach wearing a tattered wedding dress and her dead husband in her arms, all she wants to do is die along with him. Instead she is unexpectedly rescued, but Charles' body is left behind. She is determined to go back and recover Charles body to give a proper burial to her beloved.
All is not what it seems, though. The man helping her out thinks she is crazy and an enemy from the past, intent on revenge, hasn't finished what he started. Liz must find out the truth about the accident and what really happened to her husband. She'll put her life at risk in order to find and keep love forever.
Finding Forever is the debut novella from Amanda J Evans. A blend of mystery and suspense, mixed with romance and unexpected twists. Finding Forever will prove to you that when you believe in love anything is possible.
Finding Forever Frequently Asked Reader Questions
So, a lot of people see my cover, which they love, and want to know what the book is about. It got me thinking and I've tried to come up with a pitch line. Two sentences that tell potential readers what they can expect.
"A woman wakes up on a beach with what she presumes is her dead husband in her arms. This begins the race to find him and ultimately find herself before time runs out."
That's my pitch line.
But what is Finding Forever about?
The story centres around my two main characters, Liz and Charles, and both have alternating chapters in their point of view. Risky, I know, but it worked.
Liz hasn't had the easiest of life and her self-confidence is non-existent. She struggles to make decisions and prefers others to do it for her. She lives in fear of doing the wrong thing, so when tragedy strikes, all she wants to do is curl up beside her husband on the beach and die along with him. Of course, this doesn't happen. She is rescued and meets John. She believes Charles' body is left on the beach to rot and this is her turning point. The point where she must do something different, make her own choices for once. She is determined to retrieve his body and with John's help, she makes it back to the island. The body is a fake, a life-like dummy, and Liz crumbles. Her grief, her loss, all spilled out onto the pages until she snaps.
Determined to now discover the truth and with fire in her belly, Liz and John set out to uncover the mystery of Charles' disappearance.
I won't spoil the story by revealing what happens. I will tell you that there is a happy ending.
The story is, in essence, a good versus evil tale and one that proves love can overcome all obstacles.
Are there sex scenes?
I get asked this all the time and the answer is no. This is a clean read. Apart from some swear words, any bedroom activity takes place behind closed doors.
Finding Forever is on sale for just 99cents until the 4th of September on Kindle, iBooks, and Kobo.
Amazon: http://myBook.to/Finding-Forever
iBooks: http://apple.co/2uRSE8x
Kobo: http://bit.ly/2f46y20
Until next time,
Keep Writing & Reading