I love Visual Verse and the picture prompts they post at the start of every month. I discovered this site last year and started doing the monthly prompts. I missed out on a couple of months where I was busy or the picture didn't inspire me, but this year I am hoping to do the prompt every month. I'm delighted to say my piece for January was accepted and is now live on their website.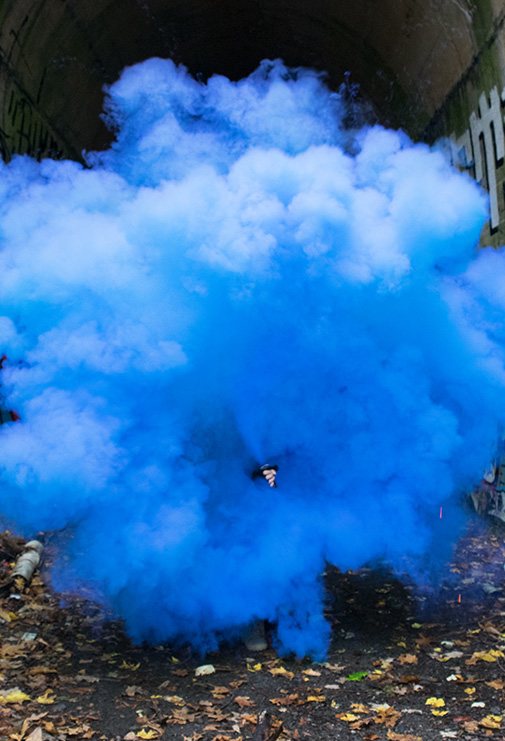 Visual Verse – Magical Forces by Amanda J Evans
As you can see from the picture above, this is what I had to work with for January. Isn't it fabulous? So, as always the way this works is that you look at the picture and give yourself an hour to write 500 words. It can be fiction or poetry, or whatever you like. The piece I wrote is fiction and on reading again, I think it could be part of a novel down the line. Here's the start of it, let me know what you think.
The blue mist filled the air leaving nothing but my clenched fist and the bare traces of my feet exposed.
"It worked, Maggie!"
"That's great Cyn, now you can add blue smoke to your list of accomplishments."
Maggie, my supposedly best friend wasn't impressed, but I was. After two weeks of trying and failing, I'd finally managed to do something other than make it rain.
"Well, I'm happy," I said, opening my fist.
The blue mist evaporated. Maggie stood glaring at me, one hand on her hips the other picking bits of dirt out from under her nails.
"If all you can manage is a bit of blue smoke, you're not going to be much use, are you?"
"What's that supposed to mean?"
"You know quite well," she huffed. "Your looks won't save you, Cyn."
"That's not fair, Mags. You know I'm trying. It's not as easy for me."
"Never is," she muttered turning away.
"What's gotten into you? You'd swear I'd done something to offend you."
"You have."
Maggie stomped off leaving me standing in the empty tunnel. I had no idea what was eating her and, to be honest, I didn't care. She knew how important this was to me. To finally be able to conjure up something that might help when the time came and all she could do was scoff at it. Sure, I wasn't a natural like her. I couldn't obliterate objects with a squint of my eyes, but I was trying.
Wiping my hands on my pants, I trailed after her. There's only one place she'd go in a mood like that – the cove.
If you've enjoyed reading the first part of this be sure to visit Visual Verse and read the rest of it and then come back and tell me what you thought in the comments. And don't forget to check out the Visual Verse website on the 1st of February to see what the new picture prompt is.
Until next time,
Keep reading and writing,
Amanda