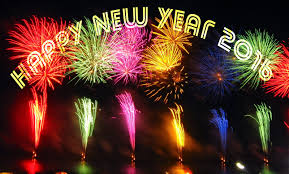 2016 has arrived. I hope it has been good so far for everyone reading this. 2015 was a year filled with clarification and new beginnings. I feel as if I finally found myself and the life I want to live. I found focus, motivation, and belief. It was a year filled with eye opening moments and realisations, and I enjoyed every moment of it. I am excited to see what 2016 is going to bring.
For the entire year of 2015 I kept a gratitude journal and I have to say this was one of the best things I have ever done for myself. It is so powerful and really does help you to focus on what is good in your life. It started off as just a couple of things but within weeks my list was growing. I found so many things to be grateful for, from a smile from a stranger, to the sun shining. It was a really powerful exercise and one I plan to continue. You don't even have to write everything down each day, just mentally listing all the things you are grateful for before going to sleep each night can have the same positive effect. It focuses your mind to look for the good and can help shift your views and your life in a positive direction.
Health and Fitness Plans for 2016
Now that January has arrived the focus seems to have shifted to health and fitness. It's everywhere. Facebook is filled with posts about exercise and healthy eating. Normally I would jump on these and set goals to lose weight, go on a diet, and so forth. This year my focus is a little different. While I do intend to boost my exercise regime and eat a more healthy diet, my sole focus is not on dropping dress sizes and getting that perfect figure. For me I just want to help my body out by being a little more aware of what I am putting in it. I want to be fit and healthy for me and for my family. Over the past year I have come to enjoy my body more. Yes I have stretch marks and cellulite, but I also have two amazing children. I have also realized that trying to get the body I had when I was nineteen is just not possible anymore. I am not nineteen, in fact, I'm closer to forty, and this is where my body is too. Yes I could do with toning and exercising more and this is what I will focus on in 2016. I am going to stop looking in the mirror and seeing the faults. Instead I am going to look in the mirror and focus on the things I like. This is a little exercise I read about in a book a couple of years ago. You look in the mirror and focus on the things you like about yourself. It can be something small like the colour of your eyes, the shape of your lips, whatever it really doesn't matter as long as you find something to smile about. Then you just work on making that something bigger and adding to it. Praise yourself and your body and learn to love the person you are.
My husband and I watched a program on TV last night about the world's healthiest diet. It was very interesting and in the end it was revealed that the healthiest diet was one that was packed with fresh, non-processed foods. That is my aim for this year, to cut back on processed and packaged foods and eat more fresh products. I am not going to diet or starve myself but fuel my body with real food.
Exercise is another area that I want to work on. I would like to get my body fit so I will be using my treadmill more and doing some strength training. I am not going to plan a rigorous routine because I know that won't work for me. I am going to build up slowly using my kettlebells and doing some walking. As my fitness levels increase, I will hopefully increase my workouts.
Life and Living for 2016
Last year I made so many plans that I didn't stick to. This year I'm not going to do that. I have two resolutions and they are to live life and be happy.
Last year I set myself goals to complete a number of books, blog posts, etc. That didn't happen. I did write throughout the year but this was work related. I am not angry with myself for not completing my books. They will be completed when the timing is right and not before. I have a number of stories that will be told and some of these have been started, others are still lurking in my mind, but that's okay. I have two children and that is where my attention is focused. My daughter is twelve and that means the teen years are fast approaching and I want to ensure that I am there to help and guide her through them. My son is nine and needs my attention too. My writing is not my priority, my children are and if I manage to write a book this year, it will be an added bonus.
My promise to myself this year is to live life, to enjoy every moment, and to be happy. I want to be present. I want to be engaged in life and I want to experience it.
I will be keeping my gratitude journal and I will be practicing positive thoughts and looking for the good in every moment. I think this is the key to enjoying life and helping others see the good too. There are so many amazing websites, books, and groups out there, that everyone can learn to view life as I do. It wasn't easy and it does take time and dedication, but once you get here, you will see that all your struggles and hardships have helped to shape you into the person you have become, and they have also given you the skills and knowledge required to help others do the same.
I wish everyone a very happy 2016 and look forward to sharing breakthroughs, adventures, and more as the year progresses.
Until next time,
Amanda