Today on my blog I'm delighted to have author C.A. King.
Author C.A. King Interview Questions
Tell us a little bit about yourself?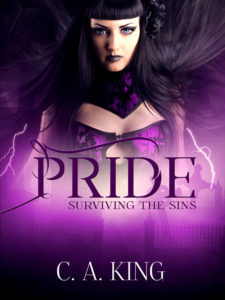 C.A. King was born and raised in Halton County. She currently resides in Brantford, Ontario, Canada with her two sons.
After the loss of her loving parents and husband, Ms. King was devastated. She decided to retire from the workforce for a year or two to do some soul searching. It was during this time that writing became her passion. She found she was able to redirect her emotions through her writing and in 2014 decided to publish some of her works.
How long have you been writing?
I have been writing in one form or another through most of my life.
When did you know you wanted to be a writer? Was it a gradual decision or did you just suddenly know?
Whether writing speeches, documents, or stories, I always had an ability to string words together. It wasn't until 2014 that I actually published a book though.
What genres do you write?
Most of my stories are fantasy with a touch of paranormal and a hint of sci-fi. I have one dramatic thriller with a twist short story – When Leaves Fall.
What is your favorite story or character that you have written?
This is an extremely hard question to answer. The Portal Prophecies series was my first and will always be my 'baby'. Readers see so much in that series, they won't in newer books. The evolution of not only the characters and the story through all six books, but also my writing as it develops is a story on its own. There are two spin off series that continue following characters from the orginal series as well. Surviving the Sins: Answering the Call is book one with Pride due out mid June being the second. In September Shattering the Effects of Time: Finding the Fountain of Youth is being released.
Tomoiya's Story is the most popular series I have at the moment. Everyone loves vampires. Mine have a different twist to them.
When Leaves Fall is near and dear to my heart for reasons that I can't reveal. (Spoilers)
What time of day to you prefer to write?
Middle of the night is my most creative time.
Do you have a special writing space?
I have an office. My father was a lawyer and I have his extra large desk that is perfect to work at.
Do you outline your books ahead of time or just go for it?
I'm 50/50 on this. I have a basic outline from start to finish. The details inbetween, however, tend to work themselves out as I type.
Who are your favorite authors?
I am a huge Indie Author fan and an avid reader. There are far too many for me to mention them all. I also tend to go through stages where I can't get enough of one author or another. I guess, to answer the question, all authors are my favourite. Anyone who takes the time to create a story deserves credit.
Your latest book When Leaves Fall and is a dramatic thriller, what was the inspiration behind it and is there anything you would like readers to know?
The inspiration is in the book. It is so important to the twist ending, I cannot reveal it,
Is this a series and if so how many books are planned for the series?
This was a stand-alone story. I may create another "Different Point of View Story" at a later date.
When is the next book due out?
Surviving the Sins: Pride is due our June 18th 2017. A new series, Peach Coloured Daisies: A Cursed by the Gods Story is due out July 1, 2017 and Shattering the Effects of Time is scheduled for a September 30th release.
Where can readers find out more about you?
On my website: http://www.portalprophecies.com/
On Amazon: http://www.amazon.com/C.-A.-King/e/B00OSIL07M/
On Social Media:
https://www.facebook.com/ThePortalProphecies/
https://twitter.com/portalprophecy
https://www.goodreads.com/author/show/6993053.C_A_King
https://www.instagram.com/the.portal.prophecies/
http://theportalprophecies.tumblr.com/
When Leaves Fall by C.A. King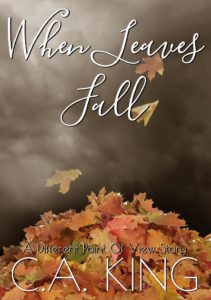 Ralph wakes up to what others only experience in a nightmare. Chained to a shed, he has no idea where he is, or who his captor is. His memories are blurred at best. As the days press on, he finds himself experiencing a roller coaster of feelings. Hunger, thirst and pain become his only companions. Flashbacks of a happier time are all he has to keep him going. As his situation deteriorates, he finds himself doubting he ever had the very thing he wants most – a family. When Leaves Fall is a dramatic thriller with a twist. Keep the tissue box close for the ending.
Editorial Reviews
There's no question, my official rating for When Leaves Fall is 4 out of 4 stars and I can't recommend it enough. If you like suspense, mystery or a good twist you'll love it, and even if you typically shy away from those genres you'll love it too. The book very briefly covers violence and there's no gore, brutal violence, sex or cussing. It was so good that I looked up what else C.A. King has written, and now I want to read the rest of her books as well! If they're anywhere near as good as this one she's definitely an author to follow. ~ an official OnlineBookClub.org review of "When Leaves Fall" by C.A. King
Oh my, When Leaves Fall should come with a trigger warning label. This book has broken by heart but in the best possible way. It has been a very long time since I have given a book a 5-star rating, and this book more than deserves the honor. ~ Peachy Keen Reviews
Buy Now:
I hope you've enjoyed this interview with author C.A. King and be sure to check out her Amazon and Goodreads pages where you can find out about all her amazing books.
Until next time,
Keep writing,
Amanda