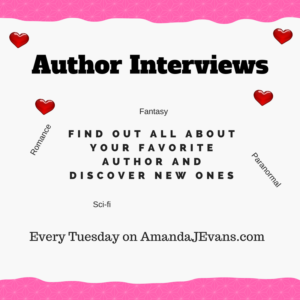 Today on my blog, I'm delighted to have author Gwendolyn Druyor. Gwendolyn writers fantasy novels and I have to say; I've really enjoyed reading her Mobious' Quest series. I won't give too much away as she gives away plenty in her interview below. I hope you enjoy it.
Author Gwendolyn Druyor Interview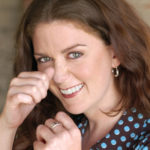 Tell us a little bit about yourself?
I was born on the East Coast, raised in the Midwest, and now live on the West Coast of America. In between, I've travelled a bit. I started out as an actor and that's taken me around the world.
How long have you been writing?
I wrote my first play in 6th grade. I started my first novel as a senior in college.
When did you know you wanted to be a writer? Was it a gradual decision or did you just suddenly know?
I always knew I wanted to write but was lured away by the excitement of acting, singing, and dancing. I toured for about a decade and my downtime was always spent reading and writing. I wrote Hardt's Tale while I was touring with a show called Sex Signals. My friend Al Foote expected a chapter every Wednesday. STILL I wasn't convinced. About four years ago, a friend of mine entered Hardt's Tale in a publishing contest. It won! THAT's when I decided to really write full time.
What genres do you write?
My Mobious' Quest series is Epic Fantasy.  The Wyrdos Universe is Urban Fantasy. And my Killer on Call books are thrillers. The big secret is they all take place in the same universe. (Well, the American bits of Mobious' Quest do at least.)
What is your favorite story or character that you have written?
Dee.  She came into being when a friend asked me to write a ten-minute short for her theater's Halloween fund raiser. (theatre closed) I was asked to adapt that into a web short. (web series folded) She told me she'd like to be a short story. That's my book, Dee.  She's taken over my life since then.
What time of day to you prefer to write?
I prefer to write first thing but I've yet to learn the discipline required to put off email.
Do you have a special writing space?
I work at a pub table with a tall chair so I can stand or sit. The entire wall to my left is a whiteboard so I can plot and make notes and reminders as I work. But, honestly, I prefer to take my laptop and hide in the back of a theatre during rehearsal or on a subway during rush hour. There's something about the energy of people.
Do you outline your books ahead of time or just go for it?
I'd guess I'm about 50/50 for plotting/pantsing so far. And that includes Laylea on both sides. I plotted that book and then it just would not fit into my plans. I had NO idea Kyle was going to be in any books after Dee, except for that one scene in The Office with the vampire.
Who are your favorite authors?
Neal Stephenson, Anne McCaffrey, Anne Bishop, Stephen King, J.K. Rowling, Dean Koontz, Dan Simmons, Christopher Moore, Terry Pratchett, Jim Butcher,
Your latest book Laylea – A Wyrdos Tale is an Urban Fantasy, Is this a series and if so how many books are planned for the series?
Yes! This is the expanding universe that wakes me up at 5 in the morning. I've got 6 books planned for the Wyrdos Tales; Dee, Laylea, Junior, Amal, Jane, and Morioka.  Laylea went off and made me write her origin story before I got around to her tale and that's a novel called WereHuman which is just the beginning of the Consortium Battle series. You want to make bets each of the characters gets an origin series?
When is the next book due out?
Junior will be available on Amazon March 31st!
Where can readers find out more about you?
www.gwendolyndruyor.com  You can sign up there for my mailing list and be among the first to find out about my new books, the audiobooks I narrate, and my acting gigs.
Is there are question I haven't asked that you would love to answer?
My IRL friends are peppered in pieces through my stories. But the one character who really came almost directly from real life is Laylea. SHE came into being as a result of me writing on the couch. My little Irish Jack Russell, Josh Lyman, believes that if you have a lap, he belongs in it, no matter the computer in his way. He annoyed me enough that while I created Laylea in his image, I made her a girl. You can catch all of Lyman's genius Haiku if you follow me on twitter @gwendolyndruyor.
Read Gwendolyn's Books on Amazon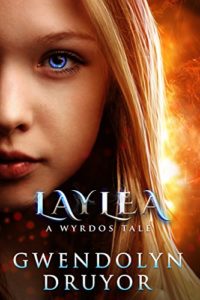 Laylea: A Wyrdos Tale
Meet Laylea, the werehuman.
For eleven years she was just a dog. A really smart dog. Now she's a fifteen year old girl stuck in a room with a newly turned vampire, trying to solve the mystery of a dead witch.
Children are taught to fear monsters. Adults learn that monsters are only myths. Adults are idiots.
Welcome to a world where it's all true: The boogeyman is real. Vampires exist. Banshees mourn our dead. Demons feed on them. And gods really do interfere with our lives, when they feel like it.
Fate is assembling a team of these Wyrdos to face a threat that could destroy the entire city, humans and monsters alike.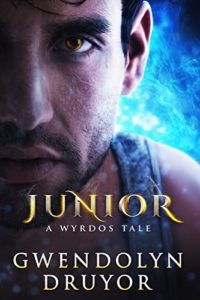 Junior (A Wyrdos Tale Book 3)
You can die of fright. 
Junior can't live without it. 
Junior Leo just found out he's the boogeyman's bastard and his job is to terrify children.
Trick is, none of us ever really grow up. We're all children at heart.
Even Junior.
It's the rare child that dreams of growing up to be a villain. Junior never did. But can you fight your genetic inheritance? Could he be a hero?
He's been hiding from the question for eight years but he's about to encounter an ancient artifact that's going to show everyone the truth about Junior Leo.
Especially, Junior Leo.
Junior is the third standalone in the Wyrdos Tales series. The Tales each feature a different supernatural character's involvement in the same apocalyptic event.  You get to live it through different eyes each time.
I hope you've enjoyed my interview with author Gwendolyn Druyor. If you have a favorite author that you'd like to see interviewed, please be sure to let me know.
Until next time,
Keep Writing & Reading
Amanda