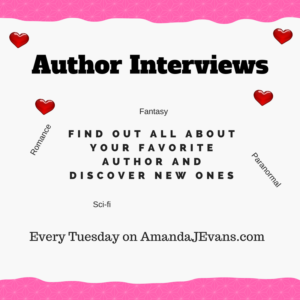 Today I'm excited to bring you an interview with author M.E. Rhines. I won't say too much, I'll let her do that. J
M.E. Rhines Author Interview
Tell us a little bit about yourself?
Well, I have two (not so little anymore) chitlets and a husband; together we live in the great sunshine state of Florida.  I'm not ashamed of believing in mermaids and fairies, and my nose is almost always in a book.
How long have you been writing?
Um, since in the womb? LoL! I know it sounds cliché, but I can't remember not writing.  I wrote my first "book" in the first grade, and my first poem was published when I was around 12.  It wasn't until my mid-twenties that I really got serious about it, though.
When did you know you wanted to be a writer? Was it a gradual decision or did you just suddenly know?
I've always known.  Expressing myself through writing has always been an easy option for me.  It just took me some time to get brave enough to share my stories with the world.
What genres do you write?
Under this name I write young adult fantasy/paranormal.  I also write adult speculative romances under my married name, Mary Bernsen.
What is your favorite story or character that you have written?
One that hasn't been introduced yet – Angelique.  She's a mermaid who struggles to swim out from under her mother's evil-shadow.  You'll meet her briefly in the first book of my mermaid series, SINK, but she gets her time to shine in the sequel, SWIM.
What time of day to you prefer to write?
I write on my lunch break and at night once my kids have gone to bed.  It's the only time I can get enough quiet to concentrate.
Do you have a special writing space?
Not particularly.  I shift around from my desk, to my car (see: writing on my lunch break), to outside.  Wherever my mood takes me.
Do you outline your books ahead of time or just go for it?
Unless it's a series, I don't outline.  Even if it is, I do a barebones outline just to get the basics of what I hope to achieve.
Who are your favorite authors?
Debbie Herbert, Carol Riggs, C.K. Brooke… just my top three!
Your latest book Don't Wake Me Up and is a Young Adult paranormal romance, what was the inspiration behind it and is there anything you would like readers to know?
One morning I woke up from a dream about a boy and a girl who wanted to be together, but lived in alternate realms.  My mind kept playing their turmoil over and over until I had to write it down.  Weaving in dating violence was a personal victory of mine; it's severely under-discussed and, from my experience, all too common.
Is this a series and if so how many books are planned for the series?
This is a standalone novel.
When is the next book due out?
My next book released July 31st of this year.  It's the first in my Mermaid Royalty Series and I'm so stinking excited!
Where can readers find out more about you?
Readers can keep up with me and my writing via my website, www.merhines.com
Don't Wake Me Up by M.E. Rhines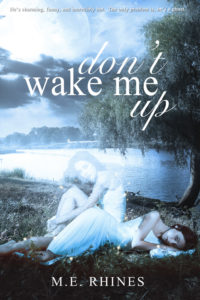 He's charming, funny, and incredibly hot. The only problem is, he's a ghost.
When the chaos of school, her over-reactive mother, and her abusive boyfriend gets to be too much, sixteen-year-old Colleen turns to astral projection to escape it all. In the sanctuary of the astral plane, she mingles with the lost souls of the departed. They all need help to move on to the Summerland, and Colleen never turns down a spirit in need. Until she meets Daemon.
With just a glance, Daemon makes her forget all the turmoil back home. The calm is welcome and addictive, but Colleen knows the peace he offers will leave with him once he crosses over, forcing her to make a desperate decision: sever her ties to her physical body, or sabotage his sal-vation.
Buy Now on Amazon:
US Link:
UK Link: 
That's it for today. I hope you've enjoyed the interview. Next week, we'll have someone different again. If there is an author that you would like to see interviewed, let me know in the comments and I'll see what I can do.
Until next time,
Keep writing,
Amanda