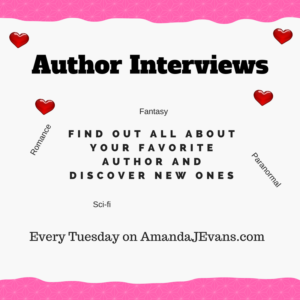 Today on my blog I'm delighted to have author Richard Crofton. Richard writes supernatural thrillers and horror novels and I'll let him tell you all about that in the interview below.
Author Richard Crofton Interview Questions
Tell us a little bit about yourself?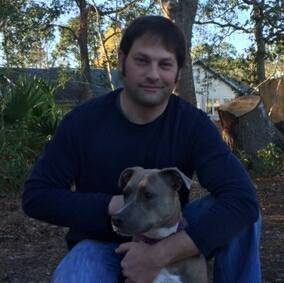 Originally from Wilmington, Delaware, I currently reside in Florida with my wife and five children. Holding a Bachelor's in English and a Master's in Education, I taught English Language Arts for ten years, but now work as an instructor in the art of Shaolin Kempo Karate. I'm an avid lover of animals, backpacking/camping, bowling, chess games, baseball, and homemade Italian food (also love my Philly cheese steaks!). However, creative writing and martial arts are my two main passions, and I'm grateful to have the opportunity to pursue both avenues.
How long have you been writing?
I've been writing stories off and on since I was about 9 years old, but as a kid, I never held onto any of my work. When I was a school teacher, I used to create short, silly stories and turned them into grammar exercises for my students. I only recently became more serious about writing to publish when I came up with the idea for The Keepers of White series about four years ago.
When did you know you wanted to be a writer? Was it a gradual decision or did you just suddenly know?
I think it's a little of both. I'd always been complimented on my knack for writing, but I never really made a serious effort to pursue the activity to the point which I could call myself a "writer." But I always had the desire. Then the idea for my series came out of nowhere, and when it did, I found myself writing pages and pages of notes about it with the red pen I used to grade my students' essays, and kept jotting notes until I ran out of pages in my notebook. Nothing so detailed had ever come into my mind before, so I figured I should make the attempt at my first full novel. I wasn't sure I would actually publish it, but in the fall of 2015 there was a local contest to submit a short story for an anthology that was to be published in my town. Ten stories would be chosen, and all proceeds for the anthology went to a charity known as the Christmas Come True Foundation. Since it was for a good cause, I submitted a short story for the heck of it; shortly after the woman creating the anthology contacted me and told me it was one of the best stories she had ever read. This compliment, along with her threat to hunt me down if I didn't officially become an author, encouraged me to finish my novel and take the steps to publish.
What genres do you write?
I usually write Supernatural Thrillers/Horrors with a hint of spiritual influence. If writing non-fiction, I tend to write memoirs with a light, humorous tone.
What is your favorite story or character you have written?
This has got to be the second novel of The Keepers of White Series, soon to be published (hopefully this summer) under the most likely title, The Paladin's Message. The first one, Agents of Shadow focuses on the powerfully evil and corrupt elitists who have gained so much control and influence over society, that there seems to be no stopping them. The Paladin's Message however, reveals who the true main character of the series will be; one who fights back against all odds, giving a more hopeful tone than previously displayed, as he shows that the Agents of Shadow are possibly not unstoppable after all. The character is kind and gentle, representing all that's good, but he struggles with internal conflict as he is torn between his code to act out of love for humanity and nature and his need for revenge against those who had left him severely broken. I really can't wait for the readers to get to know him!
What time of day do you prefer to write?
Because of my work schedule, I don't get home until after 8:00 at nights. My little ones are usually up until 9, so I like to spend that time with them and not isolate myself with my current writing project until after they're in bed.
Do you have a special writing space?
Dunkin Donuts. It's where I used to go to grade my students' tests and essays when I was a teacher. I got so used to its atmosphere (and I love their coffee) that, when I stopped teaching full time, I still go there to write. Creature of habit? – Guilty.
Do you outline your books ahead of time or just go for it?
I would LIKE to say that I outline as that is what I instilled in my former students as a highly essential writing strategy, but I just go. I mean, when I first got the idea for my series, I wrote tons of notes, but they weren't anything formal or structured, just a lot of random background information. But when it came time for me to start writing, I opened up my laptop and began punching the keys, letting the story develop on its own. There is an outline in my head though. The entire series (which will probably consist of several books) plays out in my mind again and again. So when I write, I know where I want the plot to end up, even though it takes several unexpected detours along the way. My former students will forever label me a hypocrite should they ever read this…
Who are your favorite authors?
Stephen King, Dean Koontz, Alexandre Dumas, and since I was a kid, J. R. R. Tolkein.
Your latest book, Agents of Shadow, is a Supernatural Thriller. What was the inspiration behind it and is there anything you would like readers to know?
I think there are many inspirations. I was an avid comic book collector as a kid, so I'm a fan of heroes fighting the good fight. That, and I've always been one with a desire to speak out against the injustices of society. This story is a fictionalized representation of that. What first inspired the idea came to me in the most unlikely way. Over four years ago, I was driving to work in a rental (my car was totaled from an accident), and without having my MP3 player hooked up to enjoy my favorite tunes, for the first time in years, I turned on the regular radio. Santana's "Black Magic Woman" was playing. Somehow, as I listened to the lyrics, I visualized the ruthless character of my story, Diana Palmer. The most evil, malicious, and manipulative woman I could imagine, yet so beautiful and seductive, none can resist her. In turn, I thought of one who could: a man tormented by the damage he had sustained in her wake, fueled by a vengeance and rage that's powerful enough to protect him from her spells. A man determined to stop at nothing to put an end to her and her kind. All of it just came into my head because of that one song. A message for the readers? I'll be honest: my book is pretty dark and probably not for the faint of heart. The first book in this series really focuses on and symbolizes the evil and corruption in our society, but at a supernatural level. But within its pages lies a tiny glimmer of hope. There are good forces at play. No good story resolves without the protagonists overcoming unspeakable odds, usually with hard losses and life-changing lessons as well. And there is a small amount of spiritualism as well.
Is this a series and if so, how many books are planned for the series?
It's definitely a series. I've already finished the rough drafts for the second and third books and am currently writing the fourth. Honestly I don't know exactly how many books are planned. I have so many stories in my head centered around the main character. So far, the stories are moving in chronological order, but I plan to write one that covers his past in order to explain the events that led up to his currently self-assigned quest. The main character sometimes hears an enigmatic message in his dreams from time to time: "You're going to save the world, and your daughter is going to change it." I suppose I will write as many books as it takes for this to occur.
When is the next book due out?
I'm aiming for mid-summer. The first book was published at the end of January 2017. My goal is to follow up with its sequel six months from that time. Fingers crossed…
Where can readers find out more about you?
Best place is my blog: https://richardcrofton.wordpress.com/  I blog three different categories. One is "All About The Keepers of White," where I talk about the background, the inspirations behind, and the characters of my series. I also write book reviews for other authors. But the third category is called "The Little I've Learned," in which I write about my experiences as a writer, a father, and a teacher. I think that's the best way for readers to get to know me as a person.
I can also be followed on:
Facebook: https://www.facebook.com/richardcroftonauthor/
Twitter: https://twitter.com/WriterCrofton
Goodreads: https://www.goodreads.com/author/show/16367519.Richard_Crofton
Amazon: Richard Crofton's Amazon Page
Is there any question I haven't asked that you would love to answer?
Only concerning my second book projected to come out this summer, The Paladin's Message. Several readers, upon seeing this title have asked me, "What exactly is a Paladin?" There are several definitions that both vary and contain similarities, but I'd like to give the definition provided by Urban Dictionary (urbandictionary.com), as that is the most fitting for my main character:
"The Paladin is a class of warrior that is fully devoted to kindness and ridding the universe of evil. They are very religious, and have an extremely strict honor code, as well as a soft spot for children and animals. In combat, a Paladin with a cause is almost impossible to defeat."
– "Paladins fear nothing, for Evil fears them"
Agents of Shadows (Book 1 in The Keepers of White) by Richard Crofton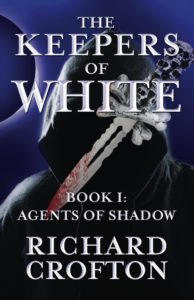 They are the Agents of Shadow, a secret organization dedicated to accumulating vast wealth and power through their knowledge and use of the dark arts, and they have infiltrated every fabric of society, equipped with the means to influence and control the masses. Interested in self-gain, they prey on the weak for their own amusement. At the coming of a Dark Year, these agents of evil are given the opportunity to amass enough power to bend humanity to their will and rule over all.
Megan Panco, a young assistant manager, has started anew in Lancaster, PA after the untimely death of her mother. Strong in her faith and madly in love with the perfect man, she remains content with her simple life. Little does she know that within her lies the key to the Agents' plans. Though innocent and unsuspecting, Megan must find a way to prevent the completion of the Dark Year by eluding their sinister clutches. If she fails, there will be no stopping them from bringing eternal darkness to the world.
Buy Now on Kindle or Read for Free on KindleUnlimited
Amazon US: https://www.amazon.com/Agents-Shadow-Keepers-White-Book-ebook/dp/B01N5TZ022 
Amazon UK: http://amzn.to/2q7fLGP
That's it for this week. I hope you've enjoyed this interview and I look forward to bringing you someone new next week.
Until next time,
Keep Writing,
Amanda