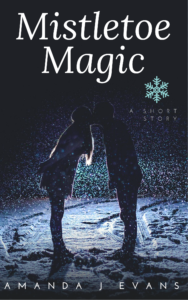 I love Christmas and the feel good cheer that comes with it. Last week I started writing a short Christmas romance story and I've loved every minute of it. It's called "Mistletoe Magic" and I've decided to add it to my Wattpad. I've copied the start of it below and if you enjoy reading it be sure to visit my Wattpad link to see how the story ends.
Mistletoe Magic – A Short Christmas Romance Story
Cassie Blake stood outside Ivy House debating with herself. A mammoth task lay waiting for her inside and she just didn't want to face it.
"Hey Cass, you all set for tonight?"
Stephanie's cheery voice interrupted her thoughts and she jumped as she turned to see her friend making her way up the driveway.
Cassie shrugged her shoulders, "Still debating," she sighed.
"Oh no you don't Cassie Blake, the whole town is counting on you. It's tradition and it's your turn."
"I know Steph, but I just can't do it. I hate Christmas. You know that."
"That's bull and you know it." Stephanie snapped. "And besides, it's not Christmas you hate, it's Ben and you need to snap out of it. It's been two years Cass, and a good party is just what you need. Oh, and I did I mention Jake's coming home especially."
Cassie glared at her friend. She was in no mood for her matchmaking.
"He's bringing his new girlfriend," Stephanie added with a smirk. "I'll be back in an hour to help with the decorating, just got to pop into the office."
Cassie went to object but Stephanie turned and marched down the driveway.
"One hour and you better be ready," she called over her shoulder.
Cassie sighed and made her way into the house and the box of decorations waiting for her on the dining room table.
The Christmas party was something all the residents in Summerfield looked forward to and if she was honest she'd always enjoyed them too. Each year the party was held in a different house. The last time she'd been the host was five years ago.
"Well It's now or never," Cassie muttered pulling open the box and peering inside. She couldn't help but smile as she pulled garlands and lights out onto the table. The ornaments had been in her family for generations and she lined them up on the table ready to be placed in their appointed locations. Each had its own special place, just the way her grandmother and mother before her. Maybe it won't be so bad she thought. After all, Christmas used to be fun.
Reaching into the bottom of the box Cassie pulled out a small piece of velvet cloth. She dropped it immediately. She knew exactly what it was. The mistletoe, her grandmother's favourite piece and the cause of all her misery. You'll meet the man of your dreams under this mistletoe her grandmother had said. That's how she met grandpa and how mom met dad. Cassie smiled as she remembered her grandmother's tales of love and the magic mistletoe.  They'd always been so special and real until she met Ben. She'd kissed him under that very same mistletoe five years ago and all she'd gotten was a broken heart and a mountain of debt.
"Not this year, grandma," she said as she closed the box. "No more magic for me."
Continue reading Mistletoe Magic on Wattpad
Until next time,
Keep writing