I am delighted to announce that two of my poems have been published in the new I Have A Name: A Prose Collection About Disorders anthology, published by Creative Talents Unleashed. This book is available in paperback only at the moment and was published on the 12th of August 2017.
I Have A Name includes Poetry by Amanda J Evans
My poems, Destination Hope and Madness were selected for inclusion in this anthology. This is the second anthology that I have been included in with this publisher. Last year, I had two poems, Living for Love and Imperfectly Perfect, published in their Imperfect Paths anthology.  My poem Imperfectly Perfect was also featured on the Creative Talents Unleashed website and can be read online by clicking on this link: Imperfectly Perfect by Amanda J Evans.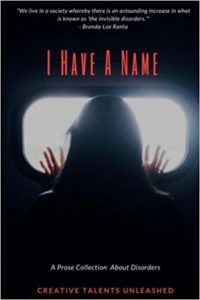 I Have a Name
We live in a society whereby there is an astounding increase in what is known as 'the invisible disorders.'  We may be living with one or more of them ourselves, or perhaps it could be our parent, our child, our grandchild or the person working at the desk beside us.  These hidden, or not so hidden disorders are a part of our modern-day life, symptoms of hereditary, dietary, metabolic or chemical unbalances in the body – yet they exist and are very real for the person who lives daily with any of them.
There are many people silently suffering as a result.  They are walking through life feeling lost, unsupported, misunderstood and alone; yet there is hope in acceptance and inclusion.  There is hope when we give these disorders a voice, a name, a face and a place in society.  The collection within these pages are voices, names and faces; the accounts of real people by real people.  They either live with a disorder or have been deeply touched by knowing someone who does.
It is with my profound thanks to all the contributors, for opening themselves up, with the willingness to share these experiences with the world.  "You Have a Name."
Brenda-Lee Ranta author of Allegories, and Myriad of Perception
This book is now available for purchase in paperback on Amazon.
Buy now from Amazon UK
Buy now from Amazon US
Until next time,
Keep writing & reading,
Amanda