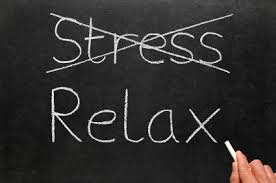 There are days when we all need a break. Days when we need to slow down and take things easy. There are also days when we need to give ourselves a little push to get things done. I have these days and I have found that when I truly listen to myself, I know when it is a day where I need to push myself or a day when it is important for me to just relax and take some time out for me. There are times when we all work too hard, no matter what our job is, and we need to take some time to chill out and relax.
Stress has been found to be very detrimental to our health and the best way to combat this is to learn to relax and listen to our body. I was reading an article from Hay House today about the launch of a new weight loss book. This book is all about using the power of positive thinking to reduce weight. The article made a lot of sense and it spoke about serotonin levels and how our body knows that carbs and sugars produce serotonin which is why we often crave these products. Now the interesting thing in this article was that the author was saying that if we think positively about future events and use positive words when we talk, we actually produce serotonin and this in turn will reduce carb and sugar cravings. It sounds very interesting doesn't it? The book is:
Stubborn Fat Gone!(TM): Discover Think Fitª to Turn Off Stress and Lose 1.5 lbs Every Day
 by Jorge Cruise if you would like to check it out.
*Disclaimer: This is an affiliate link so if you purchase the book I will receive a small commission from Amazon.  This in no way affects the cost of the book and it is the same whether you use this link or not.  I just receive a little thank you token from Amazon for recommending it to you.
The book tells us how stress activates hormones that cause us to hold on to stubborn weight especially belly fat. I read an article in my emails this morning by the author and I'll be honest, it did make a lot of sense. The words we speak do have a profound effect on our lives but I haven't read the book so I can't comment on whether it works or not. What I do know, is that we all carry the answers to any questions that we have. We just have to learn to listen to ourselves and our body. Our body is an amazing thing and when we learn to listen to it and give it what it needs we become so much happier and content in our life.
Listening to Your Body Yields The Best Results
Today my body wants to slow down and relax. Now I know that I have work to do but I still need to listen to what my body is telling me. Too much work can lead to burn out and the last week in the month is always very busy for me. Added to this is the fact that we received the contracts for the purchase of our new home yesterday and while this is exciting, it is also stressful. It has been said, that moving house is one of the most stressful things you can do and this will be our third time to move in three years. I know that the next month is going to be very busy. I have my son's communion, packing, and work so I guess my body is getting ready and asking for some time out now while it can.
Taking time out and relaxing doesn't mean that I won't do anything today. I still have work to do, but I need to give my mind a little vacation and that means sitting, even for just five minutes, and shutting everything out. Five minutes can sometimes be just what I need and if you have YouTube you can find the most amazing stress releasing, five minute meditations to listen to. The one I have included in this post is five minutes of relaxing music that will help you to chill out and just be. Try it and see for yourself.
Sometimes all we need is a time out to keep our motivation levels up and keep us on the positive track to the lives we want to live. It all relates back to an earlier post I wrote on balance in life and work. Balance also includes time out to relax and distress. Meditation is the number one way to remove stress from your life and if the new Hay House weight loss book is anything to go by, reducing your stress levels is also going to help you lose weight. I guess it's a win win situation then. I will leave you today with this lovely YouTube video and the message that we all need to take time out and relax no matter how busy we are. Take care of your body and it will take care of you.
Until next time,
Amanda