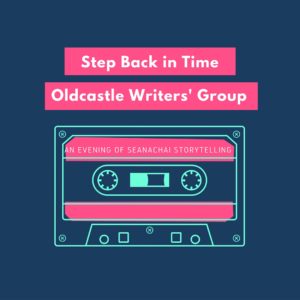 As part of Oldcastle Writers' Group, I was delighted to be able to take part in this wonderful event that we organised. The night was all about our stories and as you know from reading my blog, I wrote the story "The Curse of Johnny Murphy" which you can read on my blog in three parts.
The thinking behind this event was to host a night of storytelling in the old seanachai style. One of our writer's Lynda Kirby had also written and produced a radio play, "Lady Invincible" and this was also going to be aired. Some of the proceeds from the event were being donated to the Irish Dogs for the Disabled charity.
Our event was booked for Friday 15th July in The BookMarket Kells.
We spent the previous couple of weeks completing our stories and rehearsing and we were hoping for a good turnout.
Story Telling by Oldcastle Writers' Group
Friday night arrived and so too did the nerves. I knew from First Wednesday's that I actually could speak in front of an audience so that did help somewhat. Of course, this was going to be different because I was reading a short story that was at least 10 minutes long.
The doors opened at 7pm for a 7.30pm kick-off, and wine and nibbles were provided. It didn't take long before people started to arrive and soon the place was full. We were all a little nervous but we had no way to back out now.
Caroline, one of our writers, was the MC for the night and she did a fantastic job of engaging with the audience and introducing us all. I had created feedback forms for the event and these were placed on the tables for people to fill out.
Caroline read her story, "The Promise" first and had the audience laughing and begging for more. Audrey was up next with her tale of terror, "Hellfire Club". Next up was Elly with a tale from South Africa called, "The Tokoloshe". The audience seemed to enjoy everything so far. Lynda was next with her British tale called, "The Black Dog".
The picture below is of all of us after our performances. From left to right: Caroline Connolly, Amanda J Evans, Audrey Hayes, Eleanor Thompson, and Lynda Kirby.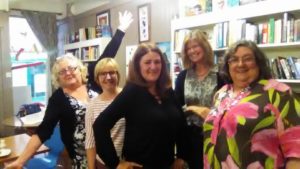 The Curse of Johnny Murphy by Amanda J Evans
My story was last and I have to admit I was dreading it. We took a short break to allow the audience to refill their wine glasses and stretch their legs. At this stage, I was having a bit of a nervous breakdown and even asked Caroline if she would read my story. Of course, she refused and as the audience took their seats once more I prepared myself for the task ahead.
I picked up the pages of my story and Caroline introduced me even commenting on my nerves. I reminded myself to speak slowly and take my time and once I got to the second page the nerves seemed to fade away as my story took over. I found myself enjoying the moment and the more engrossed I became in telling the tale of Johnny Murphy the more confident my voice became. I finished to a massive round of applause and Caroline decided to inform the audience that a few months ago I wouldn't even read my stories aloud to them.
It was a wonderful evening and very successful too. The feedback forms confirmed what we thought and there were some really great comments for all of us.
Am I looking forward to doing it again? The answer is yes and no. The nerves will always be there but I know that I can do it. In fact, we have to do it all again on the 28th of July and on the 31st as part of the Le Cheile Festival 2016.
Until next time,
Amanda