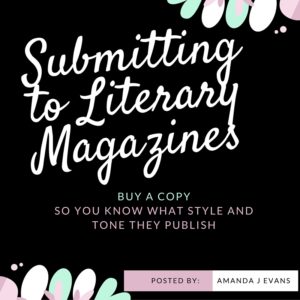 Over the past two months, I have been submitting to literary magazines and taking more of an interested in my personal writing. There is nothing nicer than seeing your name in print but it's not as easy as you think. Each literary magazine will have their own editor or editors and you have to impress them with your writing.
I started submitting pieces in April and at first, I was doing what I call a "blind submission". I had no idea what the magazine was about. I hadn't read it, and of course, I had no idea what style or tone of writing they published. All I was doing was looking at upcoming deadlines on Duotrope, picking a poem or short story, and sending it off. Not the best way to do things but in my naivety, I didn't know any better.
As I began researching and reading articles about submitting to literary magazines I noticed that it was stated time and time again, that you should read the magazines. Now that to me meant spending money and it wasn't something I was comfortable doing. Fast forward to my first rejection letter and I realised just how important this advice was.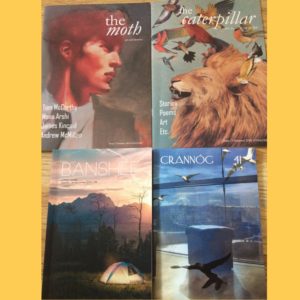 In the past month, I have purchased a number of literary magazines, especially the ones I would like to see my work featured in. I've bought Banshee, Crannog, The Moth, and The Caterpillar. I'm sure I ordered The Penny Dreadful as well but that has arrived yet.
I was very surprised when they arrived through my door. What I thought were magazines are actually small books. A quick scan through them reinforced my desire to have my name added to the authors being featured. Reading them was a real eye opener too. As I read the poems published in each of these books it quickly dawned on me that a lot of my poems weren't like any featured. These contemporary poems were so different and there were a few that actually left me baffled. Just last night I sat with my husband reading through The Moth. The poems in this were confusing and the majority of them made no sense to me. I was disappointed to say that least and I even read some of them out loud to my husband to see what he thought. His reaction was, "so you can just write gibberish." He didn't understand the poems either and it made me realise that I have a lot more to learn about the art of contemporary poetry if I wish to feature in this magazine. Some of the poems did have an underlying message that on a second or third read I was able to see, but some just went way over my head and left me confused.
It wasn't all bad though because I now have a good understanding of the style and tone of the work The Moth publish. Their other publication "The Caterpillar" is for younger readers aged 7 – 11 and the poems in this were very much my style. I understood them, there were humorous, and I knew some of my pieces fit perfectly with this magazine.
If I learned anything this weekend it was the importance of taking my dream of publication in literary magazines seriously. Spending money to educate myself is not a waste and it really was helpful. Even after reading submission guidelines, you have no idea of the style or tone of the magazine and reading one or two of their online poems does not give you the information you need. You really do need to get the print edition. Lesson learned and very much appreciated. I am now more aware of my own style and the magazines that suit my personal style. If I want to see my work in "The Moth", I need to further my skills and learn more about writing contemporary style. I also need to brush up on descriptive skills, synonyms, and bringing more metaphors into my work. It might take a while but I have added it to my goal list for 2016 and intend to see it happen.
Below I have included a list of the literary journals that I want to have my work published in.
My Top 12 Literary Journals for Poetry and Short Stories
I hope you enjoy this list of Literary Journals and if you do plan on sending in a submission, be sure to do your research, read their online poems and stories, and buy a copy to read. This will really help your chances of having your work accepted.
Until next time,
Amanda