Where Have I Been?
My blog has been left sitting for quite some time. In fact, my last post was back in October and now here we are at the start of December, the final month of the year. I didn't disappear or throw in the towel. In fact, I've been writing and I'm so excited about this story that is coming in January 2018.
Modern Retelling of The Banshee Coming Soon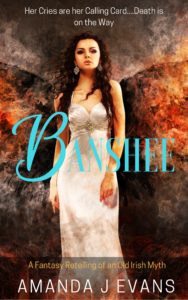 Earlier this year I was accepted into a Myths & Legends anthology with 11 other best-selling authors and that is where my focus has been the past two months. The deadline for the complete, edited, novella is December 18, and I'm delighted to say I've met my deadline and then some. My story is a modern retelling of the Irish legend of the Banshee and I can't wait for everyone to read it. It took some doing and I struggled at times, but I'm so happy with the finished product. I can't show the official cover for this story just yet, but here's a sample I created before the final one.
My banshee story originated as a short story that I wrote last year for a competition. It was 2,000 words long. When I entered to be part of the anthology, I thought it was for short stories. Imagine my surprise when I was accepted and then told that it was a novella anthology and stories were to be up to 20,000 words.
No biggie, I thought, I'll just make my story longer. Yep, it'll be easy.
Guess what?
It's Not As Easy As You Think
It wasn't easy. I'm a pantser and trying to get a story to go the way I wanted it proved a little more difficult than I thought. It started off really well and everything flowed until my characters decided they didn't like where I was trying to take them and I ended up with 18,500 words of a completely different book. (I'll come back to that one later.)
So that left me in October to start all over again with my 20,000-word banshee novella. I had the bones of the story already. I knew what needed to happen, now all I had to do was build on it. I started by opening up my original story and adding scenes and content and really getting to know my characters. Once I had a handle on this, I let go and let the magic begin. The words flowed, new characters emerged, and my novella took on a life of its own. I even wrote my first sex scene. Not something I tend to put in my books and usually do fade to black, but it was an integral part of the story and so I went with it. I'm not sure whether it's up to scratch or not, but my husband seemed to enjoy it – the first time he's ever asked to read my writing.
So for the month of October, I wrote my novella and then typed it all up – 21,000 words. I hired an excellent editor through a recommendation and my story was polished and fully finished by the 20th of November. It has now been submitted and once I receive confirmation that we can begin promoting and mentioning the anthology, I will let everyone know the title and reveal the cover image. Have I mentioned that I'm really excited about this?
Lessons I Learned
The whole experience thought me so much.
I can turn a short piece of work into a longer story
It's a lot harder than you think
Even as a pantser you can do some planning
Trusting in yourself and your story is essential
So, my lack of blogging may or may not have been missed, but it's something I am hoping to do a lot more often. I love just sitting here in front of the blank screen and letting my mind go. I love crafting a post like I'm updating a friend on what's happening in my life, and in a way, that is exactly what I'm doing. I am updating all my readers on what's going on in my life and sharing little snippets along the way. Have you ever struggled to write something? Have you learned any valuable lessons from it? Please do share in the comments. I'd love to read them as I'm sure others will too.
Until next time,
Keep writing,
Amanda