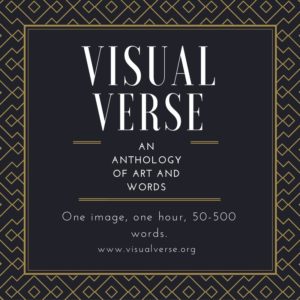 Visual Verse is a collaboration. An anthology of art, poetry, short fiction, and non-fiction. They supply a compelling image and invite writers – published or unpublished – to submit a piece in response. There is a catch though and you must write it within one hour and it must be between 50 and 500 words.
According to their website:
[su_quote cite="Visual Verse" url="http://www.visualverse.org"]Visual Verse is a celebration. Of the drama of seeing and the desire to express it. Of the things that inspire us, move us, and that we find hardest to articulate.[/su_quote]
Visual Verse is a challenge but what you get is the chance to experience the rush of writing without over thinking. The image prompts are fantastic and with the picture you get to create a piece of writing that is your interpretation and your response. They offer you the chance to experience the rush of writing without overthinking. Sometimes strange, sometimes beautiful, let the picture be the start of something you can't predict: your own response.
My Publications at Visual Verse
I have had two publications on the Visual Verse website so far. The first of these was a piece called "In Darkness I See" which can be read on their website with the accompanying image. Below is a screenshot of the published piece. I really enjoyed doing this. It came up on my Facebook feed, and I thought to myself, why not. It was a spur of the moment decision and I just let my writing flow. I was actually really pleased with the piece that followed. I thought nothing more of it when I sent in my submission and then on the 27th July, I was mentioned in a Tweet by Visual Verse with a link to my published piece. I was absolutely delighted. To read the piece online just visit this link: http://visualverse.org/submissions/darkness-i-see/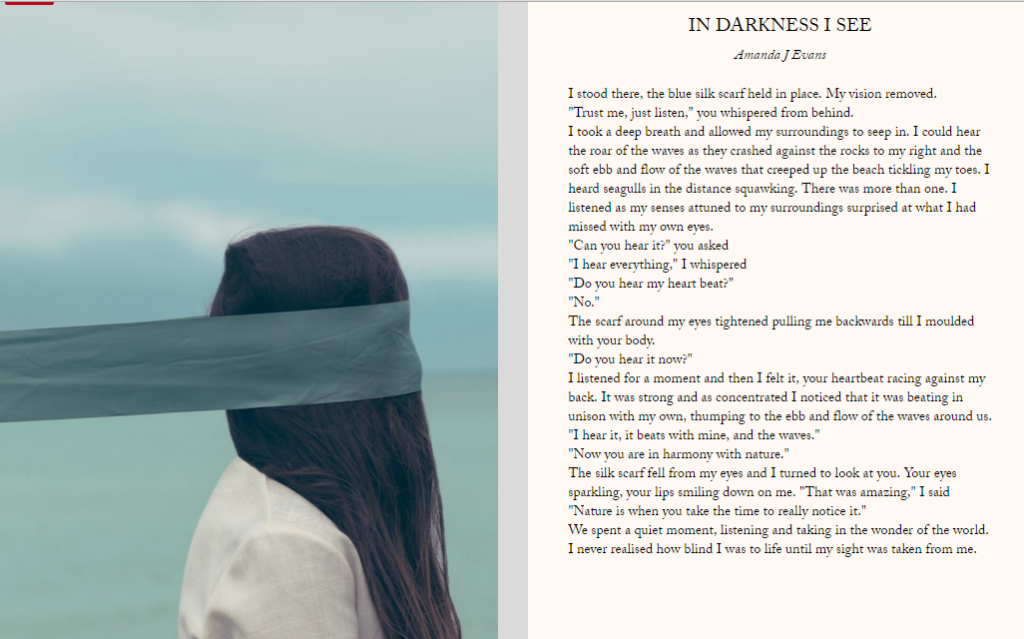 My second published piece with this writers' anthology website was today and once again I received a Tweet mentioning me and my published piece. The submission period for this image is still open for anyone who would like to submit some writing. Remember, all you have to do is look at the picture, give yourself up to an hour, and then just write between 50 and 500 words. My piece for this picture was a little strange and not something I expected to come up when looking at the picture but I went for it and obviously they liked it enough to add it to their publication. Again the screenshot is below. My short story is called "Lipstick Covered Revenge". You can read it on the website here: http://visualverse.org/submissions/lipstick-covered-revenge/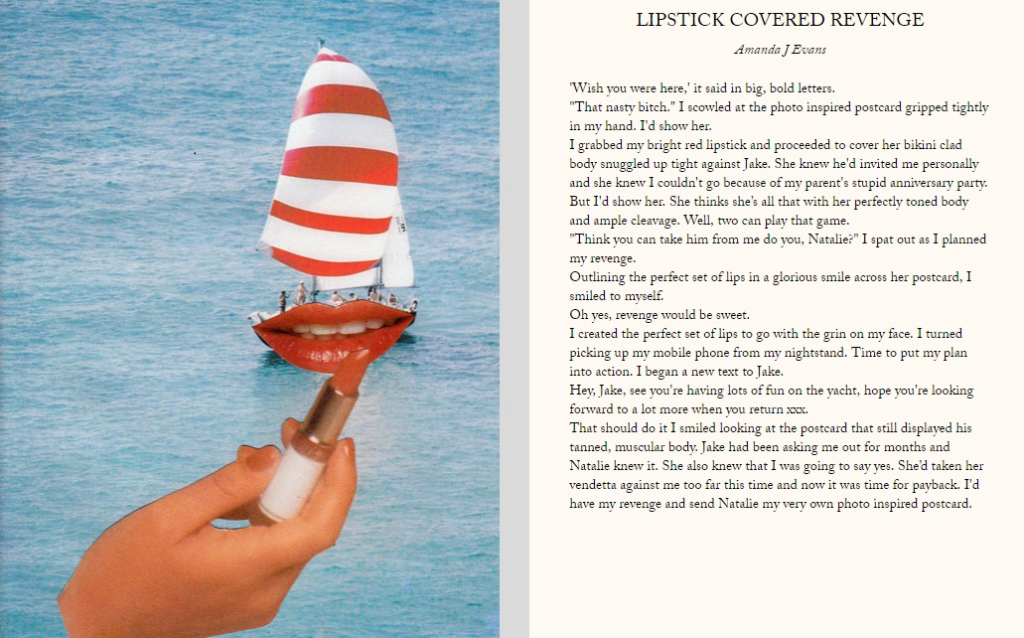 Be sure to visit the Visual Verse website and if you like the picture, submit your work.
Until next time,
Amanda