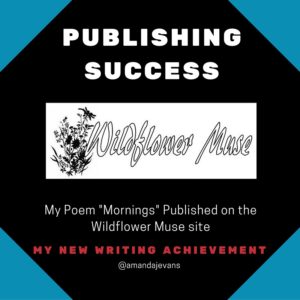 Today I want to talk about the Wildflower Muse submission guidelines and share my wonderful publication news with you all. I came across Wildflower Muse while browsing through Duotrope. It was actually the first journal that I submitted poetry to when I began my journey back in April. I sent three poems on the 21st of April and received an email on the 26th of April to say that they would like to publish my poem "Mornings". To say I was thrilled is an understatement. I was absolutely over the moon, and it reinforced my desire to see my work in print.
For anyone interested in sending work to this online journal, here is what their site says about them:
[su_quote cite="Wildflower Muse" url="https://wildflowermuse.wordpress.com"] Wildflower Muse is a site for literary and artistic expression of the coolest quality. We don't care so much about credits as we do about passion. We welcome submissions from writers and artists of all backgrounds and levels on any subject matter or style. If you have a passion for creative expression, we want to see it and share the best of what we receive.[/su_quote]
Wildflower Muse Submission Guidelines
Before I share my published poem, I want to let you know what type of work this magazine looks for. They are open to submissions all year round but they don't accept work that is published on other literary websites, or in print publications, unless 6 months has passed since the time of publication. That's fair enough.
There are a number of different genres that they accept. These are poetry, fiction, nonfiction, art, and crafts & creations. I submitted to the poetry section. They ask that you submit up to 5 poems of any style and on any subject. Poems should not be longer than 60 lines per poem, and they ask that your work possesses a strong voice that resonates deeply and shows originality. Be sure to check out the Wildflower Muse submission guidelines for more information.
My Published Poem in Wildflower Muse
From time to time, there are themed submissions and when I was sending in my work it was for their Mental Illness theme. My poem titled "Mornings", which you can view in the screenshot below, was written around 25 years ago now and I was absolutely delighted that it was chosen for publication. It really does go to show that you shouldn't discard any of your work. You never know when it will find publication success. This poem was published on the 22nd June 2016.
I hope you enjoy reading my poem and I really appreciate all the good wishes and comments that I have received on Facebook and via personal email. Your words are so encouraging.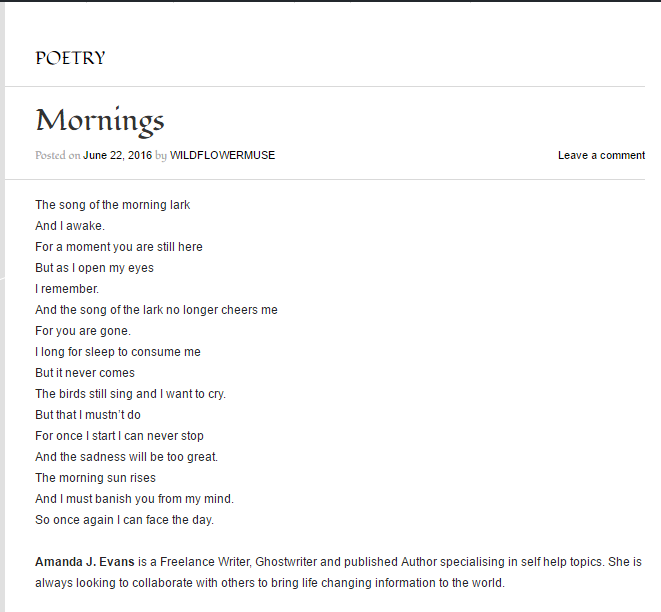 Until next time,
Amanda