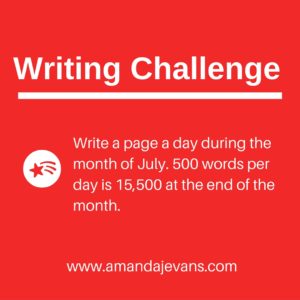 I can't believe it is August already. The year is really flying by. For the month of July, I decided to do the Page a Day writing challenge. This is where you commit to writing one page each day for the entire month. At the end, you should have 31 pages of new writing.
For this writing challenge, I decided to focus on my "To Be Completed" folder. This is where I have all my short stories and writing pieces that have to be finished. The way I thought of it, if I were to write a page a day or even 500 words each day, by the end of the month I would have 15,500 words. That's a lot. I was hoping to get a couple of short stories finished and the one I choose to start with was called "Pirates".
Pirates was actually a prompt I was given in September 2015 and I had around 1600 words written. I knew I could finish this and then move on to another piece that was sitting in my folder. So I opened the story and read through it to familiarize myself with what I had already written. I grabbed a notebook and pen and set about finishing it.
True to the way my writing normally goes, as soon as I started writing the characters decided they had other ideas. This story took a massive twist, one that I wasn't expecting, and I knew after completing 10 pages of this challenge, that my story was nowhere near complete. In fact, as I finished this writing challenge for July my supposedly short story is turning into something much more. My characters aren't willing to let me go yet and one of them even wants his own POV. I have a feeling this story is going to turn into a novella or novel at this stage, but I am enjoying it.
When Characters Take Over Your Writing
I don't think I'm alone when I say my characters take over my writing. I may have an idea or brief outline but as soon as I start writing, my characters take control and they dictate when the story is going. My Pirates piece is a perfect example of this. The twist that happened was so unexpected, even I was confused. It is starting to make sense now as the story progresses but I was shocked when it happened. I was writing away, pen and paper, and then these lines just came out of nowhere. Rather than stopping and questioning things, though, I went with it, and I have to say I am loving how things are panning out. There is mystery, intrigue, and quite a lot going on. I don't even think this short story will be titled Pirates by the time it reaches its conclusion.
What I'm wondering, what do you do when your characters take over your writing? Do you stop them? Do you go with the flow? I'd love to hear your opinions so please do share them.
I'm going to continue my challenge through the month of August too to see where my story is going. I'm dying to see how the villain of the piece gets his just desserts, and I can't wait to see my heroine get the happy ending she deserves.
Until next time,
Amanda