It's the new year. 2018 has arrived. Can you believe 2017 went by so quickly? Today is back to normality for me. The kids are back to school, Joe is back to work, and I begin my own client work too after a lovely two-week break. I thought I'd start my blog this week by taking a look at my writing goals for 2018 and looking back over my 2017 goals to see what I managed to accomplish.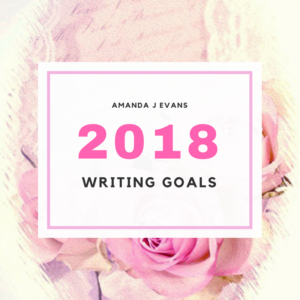 Writing Goals 2017 and How I Did
I had a list of writing goals for 2017 which I've detailed below along with whether or not I achieved them.
• 1 Blog post per week – I failed at this one. In fact, there were times over the year when my blog wasn't updated all month.
• Publish Finding Forever – I published on the 31st of January 2017. This was my first fiction publication and I'm so thrilled with how it went. The reviews are amazing and it won the 2017 Summer Indie Book Awards for Best Thriller.
• Finish Save Her Soul – completed writing in March 2017.
• Publish Save Her Soul – This was my second novel and it was published on the 1st of August 2017. Again, I am absolutely thrilled with the reviews for this book and the fact that everyone loved Kate and Drake. Save Her Soul took second place in the Virtual Fantasy Con Awards 2017 for Best Paranormal.
• Increase Kindle Payments – I did increase my payments slightly to two figures per month. Not much by some standards but to have any sales at all is a success in my book.
• Write 10 Short Stories – I met this target too. Most of the stories remain on my computer as I haven't gotten around to submitting them as yet.
• 2 Author Interviews – I think I had about 5 interviews in total if not more during 2017 so that goal was met.
• Increase my fitness and have the figure I want by my 40th Birthday – I didn't do too bad here. I managed to walk at least 3km most days although I did lapse come September right the way through to December. I was delighted with my figure for my 40th birthday in July though so I'm saying this goal was met.
• Hit the NYT Bestsellers List – probably a bit of a big goal and unfortunately, I didn't meet it or come anywhere near, but I can always dream. 🙂
• 10 or more publications in Literary Journals – This was another goal I didn't meet because I didn't do a lot of submissions. I did have some publishing success on Visual Verse, in the Stinkwaves Magazine, and I had some poetry accepted in a number of anthologies, so not too bad.
• Get Published in Into The Void Magazine – I never got around to submitting anything so didn't meet this goal.
• Get a publishing contract – This one I did accomplish and signed a publishing contract with Handersen Publishing for a book of short spooky kid's stories. Nightmare Realities was published on the 25th of September 2017 and is doing really well. It was at #57 on Amazon under Spooky Stories yesterday.
• Finish my 3rd Book – I finished a new novella called Hear Me Cry which will be included in the Breaking the Myth anthology which is available to pre-order now for just $0.99 and will release on the 25th of January 2018.
All in all, I didn't do too bad with my writing goals for 2017 and hopefully, I will continue to do the same with my 2018 writing goals.
Writing Goals 2018
I have a number of writing goals written down for 2018 which I hope to achieve. These are:
• Learn about book marketing
• Publish 2 or more books
• Post at least 1 blog post every week
• Sign with a publisher/agent for my adult books
• Enter 1 writing competition each month
• Submit a story/poem to a literary magazine each month
• Take more writing courses
• Attend the Dublin Writers conference
• Do guest blogging
• Do 5 or more author interviews
• Write 10 or more short stories
• Do the Visual Verse Picture prompt every month
• Write a Christmas Novella
• Take part in at least 1 anthology
• Get my KDP up to 3 figures per month
• Get active in my Facebook group and make it the place to hang out
• Get an Amazon Bestseller Tag
• Get a 30-minute walk in every day
• Do kettlebells/weights every week to strengthen and tone
That's my writing goals for 2018 so far. I will probably add to this as the year goes on and hopefully, I'll be able to achieve them all.
Have you set any writing goals for 2018? Why not share them in the comments? I'd love to know what you're up to.
Until next time,
Keep reading and writing,
Amanda