As you know, I released my first fiction novel on the 31st of January 2017, so I thought it would be a good idea create a post on book marketing tips for new authors. I'll be honest, writing the book really was the easiest part and learning all about marketing and putting everything into practice can take up a great deal of time. Here's what I learned from the process.
Book Marketing Tips for New Writers
There's actually quite a lot of information available on book marketing so the first thing I have to say is, try everything. You never know what will work until you test it. Here's a list of all the different marketing practices I used during the launch of Finding Forever.
Preorders – I put my book up for preorder prior to its release. This was a great way to attract attention and build excitement. You can place your book on preorder up to 90 days before the release. I wasn't aware of this at the time so my book was only available on preorder for about 10 days. From what I've read, the longer your preorder timeframe the better.
Book Cover and Teasers: This is really important. Your book cover and teasers are what will attract attention. Hire a book cover designer. I used Under Cover Designs and the full wrap package included a teaser image, 3D book cover image, a Facebook banner, and my e-book and paperback covers. With the teaser image, all I had to do was load it into Canva and add text. I created a number of different teasers using quotes from the book and had a different one to display right the way up to release day. Teasers are eye catching and you need to build a buzz around your book.
Facebook Groups: These turned out to be the most helpful but also the most time consuming. There are hundreds of Facebook groups where you can promote your book and I spent a couple of hours each day adding my teaser images and links. Try to find groups in your genre.
Instafreebie and Mailchimp: This is all about building a subscriber list. With Instafreebie you need to have a short story or book to giveaway for free and people then subscribe to your newsletter to get the book. Both of these are paid services but you can use free options. Mailchimp is free for up to 2,000 subscribers and you are allowed to send out 12,000 emails each month. Instafreebie allows for a free account but you can't collect subscribers. The way around this is to use their 30 day free trial. That will allow you to collect subscribers and it will automatically add them to your mailchimp list. So far I have a list of 970 subscribers in less than 2 weeks.
Newsletter Swaps and Instafreebie Promos: Again this is something that is really popular and there are lots of groups on Facebook. You can take part in newsletter swaps with people who write in your genre. They will promote your book to their list and vice versa. There are lots of Instafreebie promotion groups also where you can share your links.
Kindle Unlimited: It was recommended in a number of different groups that new writers should enrol their books in Kindle Unlimited. You have to remember that as a new writer you don't have a fan base and having your book in Kindle Unlimited allows readers to check out your writing for free while you get paid per page read. It's a good way to increase your visibility.
Reviews: This is another way to help once your book hits the market. Finding people to review your book can be difficult though and even when you do find people willing to do it, you can't guarantee that they will leave a review. You can put out a call offering ARCs and try to get some bloggers to feature your book on their blog and Facebook pages. If you can get an authority figure in your niche to mention your book this will really help.
Keep Promoting: Book marketing never ends and you need to keep doing it over and over again. It takes time to build a fan based and this may not happen until you have a number of books on the market. Just keep doing whatever is working.
Paid Book Marketing Options for New Writers
I purposely left out the different paid options that are available because I didn't use them and can't provide any statistics. The popular choices seem to be Facebook Ads, Amazon Ads, and book marketing services such as BookBub. My budget didn't stretch to paid marketing efforts this time around but there are plenty of options available if you have the money to spend. Remember, none of these are guaranteed to get you sales though.
Book Marketing Results for Finding Forever
When my book released on the 31st of January I had 9 preorders. For a new writer I think this is a good result. It may not be hundreds or thousands but it was something and I was very happy with it. I had a number of reviews go live during the first couple of days too which helps with sales. The number of reviews posted compared to the number of review copies sent out is very disappointing. I even sent emails reminding readers to post their reviews. Some responded saying they would do it shortly, others didn't. This is the risk you take when sending out review copies. People love to get things for free and they don't always follow through on what they've promised. Sales for Finding Forever has been good and I've sold all the paperback copies that I ordered.
I am still promoting my book as they say the first 30 days is the most important. Page reads from Kindle Unlimited are excellent and my sales numbers are in the double figures which I'm pleased with too.
I hope these book marketing tips have proved helpful and if you haven't read Finding Forever yet, be sure to check it out. You can read it for free on Kindle Unlimited.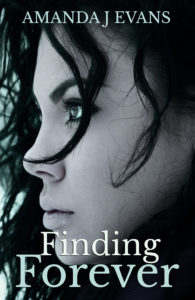 Amazon US: https://www.amazon.com/dp/B01MY9IPZG
Amazon UK: https://www.amazon.co.uk/dp/B01MY9IPZG
Amazon CA: https://www.amazon.ca/dp/B01MY9IPZG
Amazon AU: https://www.amazon.com.au/dp/B01MY9IPZG
instafreebie link: https://www.instafreebie.com/free/806b1 – for a free short story.
Until next time,
Keep writing,
Amanda