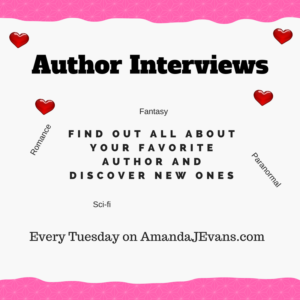 Today on my blog I'm delighted to introduce Author Karen Glista. I'm actually reading Karen's book Embellished at the moment and it's really good, so I was chuffed when she agreed to take part in my author interview series. I hope you enjoy finding out about Karen and I've included her book Embellished and buy links at the bottom of this post.
Author Karen Glista Interview Questions
Tell us a little bit about yourself?  
I'm a dreamer, ruled by fantasy. I was born in Texas, and now live in the Great Lake State. I've travelled the U.S. actually lived in Alaska for many years, working in Fairbanks as a registered nurse. Nursing is still a major part of my life today as is gardening, family, friends, a shaggy red dog and my passion which is writing.
How long have you been writing?
I have been writing since elementary school, but kept it to myself. Now, it pours from me, like a great river and there are times, it occupies my life.
When did you know you wanted to be a writer? Was it a gradual decision or did you just suddenly know?
Actually, in grade school while reading My Friend Flicka, the desire blossomed. As an adult, nursing came front and center and although the desire to help, nurture and assist in the healing process lingers, writing has become my passion.
What genres do you write?
Action packed paranormal romance with a twist of horror.
What is your favorite story or character that you have written?
Embellished is a favorite. I started the book with a female heroine, begot by deadly disease, given a second chance at life. Transported to dangerous new world, she ends up bought by a hulking, tusked humanoid and as the story progressed I found myself falling for the character. He is the complete package and not just his muscled body, or dangerously handsome face, but his integrity which is astounding. I must add however, that his volatile Vadarc temper often gets in the way.
What time of day to you prefer to write?
I prefer 5:00 AM, but to be honest, I read one chapter and it starts rolling in my head, no matter the time of day.
Do you have a special writing space?
My bedroom, doors closed, praying no one interrupts.
Do you outline your books ahead of time or just go for it?
No outlines, the tale is in my head, I just fantasize, hands on the keyboard while it plays before me.
Who are your favorite authors?
Monica McCarty and Dean Koontz, but master of mind is J.R.R Tolkien
Your latest book Embellished is an antiquated paranormal romance, what inspired it?
It was inspired by the horror of Marfan Syndrome as well as all disease and it became a coping skill for what medicine cannot change and my offering to those who suffer a second chance to face evil, even death and forge a new destiny.
Is this a series and if so how many books are planned for the series?
Embellished is book one in a trilogy. Book two, Extolled is available on Amazon and book three, Exalted will be released soon. All are available for Kindle or paperback. (I lovingly refer to them as the 'E' series)
When is the next book due out?
May, 2017
Where can readers find out more about you?
Embellished by Karen Glista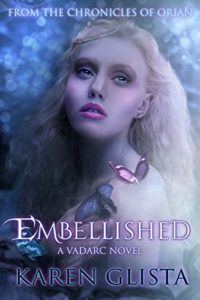 When hunky, eighteen-year-old Travis Kurth lures his sister Bekka to assist him and his friends in an online game, he has no idea that all their lives are about to change… forever. Ripped from reality by an elemental force of nature, the party of five soon wake in a beautiful, but dangerous, new world called Orian.
Bekka, who is suffering from a genetic disease, the same malady that killed their mother, finds herself in complete remission, but there's little time to celebrate as one, then another of their party falls prey to this unforgiving land.
Rescued from death by a battalion of human soldiers under the leadership of Vallas Onisquase, Crown Prince of Adosarath, Bekka discovers that in Orian refuge comes at a steep price. The arrogant, dangerously handsome Vallas, beguiled by Bekka's beauty, sets in motion a plan to make her his own, but the royal entourage falls under attack by a blood-thirsty humanoid faction called Vadarcs.
Abducted, Bekka finds herself deep in Vadarc territory with no chance of rescue. Leashed like an animal, abused, humiliated and placed on an auction block, she is purchased by blood and gold to become the property of Randar Ataurik, a humanoid, tusked, barbarian, Vadarc prince.
Vallas who is obsessed with his newly betrothed, demands her return but Randar, in the long held tradition of Vadarcs, has bound her by blood.
As the winds of war sweep the land, Bekka finds herself in a deadly triangle.
Embellished is the first book in an epic, paranormal romance.
Amazon US Link: https://www.amazon.com/Embellished-Chronicles-Orian-Book-1-ebook/dp/B01M5BZVQ1

Amazon UK Link: http://amzn.to/2nA1ztn
I hope you've enjoyed this week's author interview and I can't wait to see who I'll be featuring next week.
Until next time,
Keep Writing,
Amanda