Longshot Island Magazine Review
Longshot Island magazine is relatively new and I had the pleasure of reading the first issue. On their website, you'll find plenty of information including:
"Longshot Island is both an online magazine and a printed magazine. Some stories may appear in the printed magazine that do not appear online. And vice versa. Check them both out."

…and something like this:
"Longshot Press is the publisher behind the magazine Longshot Island. We also publish books and collections of stories. We are open for story submissions."
So, what's this magazine really like?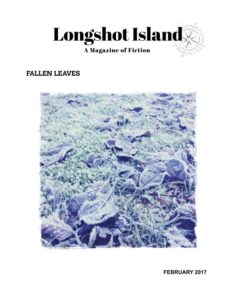 My first impression was, Wow. This is a high-quality magazine and the layout is beautiful. This issue I have is Fallen Leaves February 2017. The illustrations are stunning and the overture page was the perfect lead in. It gave a brief overview of what to expect from each piece and I couldn't wait to get stuck in.
The first piece is the welcome from the Editor in Chief, Daniel White, and his prose was captivating. I was drawn in immediately and I knew this was a magazine that was not only beautiful in presentation but would feature exceptional words too.
"I Am" written by Joanie Chevalier left me speechless. I read every word, pausing and reflecting on what the author was saying. This is a powerful piece and by the end, I had tears in my eyes. The quality of the writing, the way the words flowed on the page, drew me in and broke my heart in the process. You can read more about Joanie in the author section on the magazine's website. I know I will be reading more from this author.
You can also view the magazine online and the quality is still excellent. If you are looking for somewhere to submit your stories, you might want to look at Longshot Island. They are open for submissions and I have included a brief overview of the submission guidelines below.
Longshot Island Magazine Submission Guidelines
They are looking for mainstream fiction. They want stories that are well written, intelligent, and enjoyable to read. They want stories that contain emotional content and descriptive writing. I recommend you read some of the stories from each of the magazines to get a feel for the sort of pieces they publish. "I Am" is my favorite but there are plenty of others that caught my attention too like Tweaks by L.S. Hicks, and Betrayal of the Mind by Jacqueline Scifres.
The magazine accepts science fiction, fantasy, and horror too, once it's well written and engaging. Here's what their website says:

"Usually stories with more characters work better than stories with fewer characters. You'll need to have a strong central character, of course. But as you write, think about which character owns each scene. Create a clear scene with imaginative writing but not too much exposition. While action and dialog lead to exciting writing, descriptive writing will play an important role in giving your story skin."
They prefer shorter stories that range from 500 words up to 2,500 in length. They also accept collections of poems.
There is no monetary payment but if your work is accepted, it will appear in the online edition of Longshot Island as part of their short list. The best stories are then featured in the magazine. Writers receive 5 copies of the magazine. The magazine is also sent to the O. Henry awards and at the end of each year, the best stories are sent to the Pushcart Prize.
I have been going through my files to see if I have anything that is suitable for this magazine and I have done a little more research too. I found a great article about the submission process. The author of this post, although rejected, was full of praise for the magazine and how encouraging the rejection email he received was. This, I must say, is something that I know a lot of writers will appreciate. No one likes getting a rejection, but when it comes with positive praise and encouragement, it doesn't feel as bad. You can read the review here: https://beetleypete.wordpress.com/2017/03/03/positive-rejection/
Submissions are sent via the form on the website and there is no fee.
You can find out more by visiting the Longshot Island Magazine website.
Until next time,
Keep writing,
Amanda