I'm delighted to announce the publication of a new short story. Mermaids Shouldn't Run is a romantic comedy that readers found hilarious and begged me to put up on Kindle. I listened and added it yesterday. Below is the blurb and the links for purchase. It's $0.99 and Free to read on Kindle Unlimited.
Mermaids Shouldn't Run – A Short Romantic Comedy
A fancy dress party, a mermaid outfit, and 5-inch stilettos. Sounds like fun but for Miranda, it was anything but.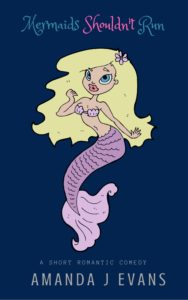 Vivid dreams involving a mystery man asking for help, a friend with a knack for turning everything into a story for the newspaper, and a hospital stay are all combined in this hilarious romantic short story.
Will Miranda discover who her mystery man is?
Will Lesley ever stop laughing at her?
Find out in this funny short story from new author Amanda J Evans
Here's what others are saying about Mermaids Shouldn't Run
"Hilarious. The conversations between Miranda and Lesley has me laughing out loud so many times."
"So funny. I could picture everything happening in my head. The perfect lunch time read."
"A wonderful light romantic comedy. My colleagues wanted to know what was so funny because I kept laughing."
"Can't wait to read more from this author. I loved the dialogue and the references to Orange is the New Black and 50 Shades of Grey."
Buy Now for $0.99 or Free on Kindle Unlimited
Amazon US: https://www.amazon.com/dp/B06XDGZ71H
Amazon UK: https://www.amazon.co.uk/dp/B06XDGZ71H
I hope you enjoy reading it as much as I enjoyed writing it.
Until next time,
Keep writing,
Amanda