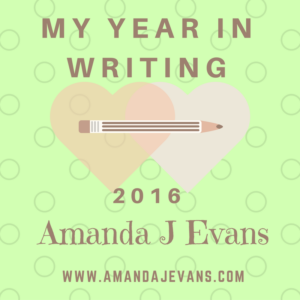 This post is dedicated to my year in writing 2016. I have to say, this was a great year for me, especially my personal writing. In fact, I'm a little bit blown away by the amount of writing I have completed. I've always dreamed of being a writer but never got around to giving this dream priority.
Oldcastle Writers – My Motivation
At the end of March 2016, together with a group of writer friends, Oldcastle Writers Group was launched, and with it came the focus and motivation I needed to remind me of my love of writing. I owe a lot of my writing accomplishments of 2016 to my amazing writer friends in this group.
My Year in Writing 2016 – Compiling My List
I began compiling a list of everything I'd written during 2016 in the back of my page a day diary. This is the book that keeps me on track during the year. Each day I fill out me to do list and mark things off as they're completed. It's mostly for work, though. At the back of the diary is a couple of notes pages so I decided to use on of them to list my writing. Imagine, my surprise when I completed two full pages and some of page three. I hadn't realised I'd written so much this year including my first novella due for publication in late January 2017. I'm also halfway through writing my second novel which I hope to have finished in March with publication in summer 2017.
A Change in Mindset and Remembering What I Love
All this was only made possible because I changed my focus and gave my writing the attention it deserved. I now devote 30 minutes to writing every morning before I do anything else. It has worked and I look forward to it every day. Prior to this I always promised myself I would write when I had time, or once I'd finished my work. It never happened. Now I write because I want to and because I now realise how important it is to me and how much I love the feeling that comes with it.
With all that said, here's my list of all the things I've written during 2016.
Novels/Novella
Finding Forever – novella (due to be published in January 2017)
Save My Soul – novel in progress (due for publication in summer 2017)
Short Stories
Escape from darkness – short story
Mermaids can't run – short story
The curse of Johnny Murphy – short story (available to read in 3 parts on my blog)
The Banshee's Wail – short story
Mistletoe Magic – short story (available to read free on Wattpad)
My Black Beauty – short story (published)
The Wedding Clock – short story
On My Knees, I Give Myself – 100-word short story
Not One But Five – 100-word short story
The Glow in the Mirror – 100-word short story
Darkness and light – 100-word short story
First Kiss – short fiction
Lipstick Covered Revenge – short fiction (published)
In Darkness I See – short fiction (published)
In the Darkness – short piece
Memoir
Happy When Drunk – memoir
The Middle One's The Brake – memoir
A Broken Heart a Blessing – memoir
Best Friends – memoir
Bullies or Not – memoir
Goat Skin Hardballs – memoir
Poetry
The Friendly Dragon – poem
A Darkness – poem
A Stranger Calls – poem
Destination Hope – poem
Emotions – poem
Just Beneath – poem
Life's to do list – poem
One Night Stand – poem
Reading – poem
Recognising Love – poem (published)
Sculpted Heart – poem
Soul Mates – poem
The Writer – poem
3 words – poem
Unpopular – poem
Untitled July 2016 – poem
Witnessing Dawn – poem
Imperfectly Perfect – poem (published)
Living For Love – poem (published)
Mornings – poem (published)
Surviving – poem (published)
The Writer – poem
Four Trees – poem
Writers Block – poem
All Hallows' Eve – poem (published)
12:20 – poem
Cherry Blossoms – poem
The Bang – poem
Awake – poem
The Book – poem (published)
Missing Pieces – poem
Unfinished Pieces
The Warriors Way – unfinished fiction
Flame – unfinished fiction
Unspoken – unfinished fiction
Interview with William Shakespeare – unfinished fiction
Pitch Black – unfinished fiction
The Land was covered in ice – unfinished fiction
The Time Machine – unfinished fiction
Run – unfinished fiction
World's End – unfinished fiction
Broken – unfinished fiction
Destined to Be – unfinished fiction
Kate and Daniel – unfinished novel
Now that 2016 is coming to an end it's time to focus on writing goals for 2017. My goals are to continue enjoying what I love and to try and beat this list of completed pieces.
Until next time,
Keep writing
Amanda