I'm a big fan of YA novels and recently signed up for an account with NetGalley. Keeper by Kim Chance was the first book I received and below is my honest review.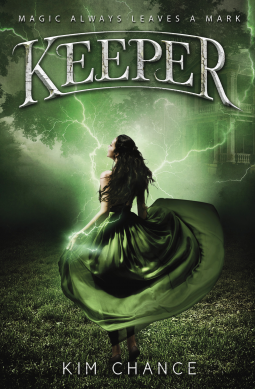 Keeper by Author Kim Chance
Wow, what an adventure. I'm a big fan of YA and this book certainly didn't disappoint. The main character Lainey is written so well and I loved her best friend Maggie. Their conversations had me laughing out loud and nearly crying at times. Their friendship was so well written and I loved all the references to comic books and superheroes. Ty, what can I say? I loved him right up to the end and I can't wait for the next book in this series, (there has to be another book) to see what his story really is. I don't believe he's what he's made out to be in the end.
I don't like to give spoilers in my reviews so it's hard to tell you how much I loved this book without giving anything away. All the characters were well written and I especially loved the few chapters that gave Josephine's backstory. I also loved the last scene with Josephine in the book and how Lainey got to see that her mother and Gareth were happy and safe.
This book flowed perfectly, kept me turning the pages, and has lined the story up for an amazing sequel. I want to know more about Lainey and the powers she possesses, as well as finding out what will happen to Maggie. Of course, I also want to know more about Ty and see him redeem himself. This book takes you on a journey with the characters as Lainey discovers she's more than what she thought. At the beginning the ghostly encounters have her spooked, but we get to see her come into her own, face her fears, and kick ass. She's not a whiny character either, which is a big plus for me. We get to feel her fears and her confusion. We get to see her outrage and her heartbreak. All the emotions are here in this story and I will definitely be recommending it to other YA book lovers.
There's so much to love about this book and I think the author has a great writing style, one that sucks you in and doesn't let go until the very last page. I actually didn't want this book to end. I wanted more of the story.
Keeper releases on the 30th of January and is available to pre-order right now. Below are the links for Amazon UK and Amazon US.
Pre-order Keeper from Amazon US
Pre-order Keeper from Amazon UK
Until next time,
Keep reading and writing,
Amanda