Stinkwaves is a PG-13 literary magazine and where my latest publication can be found. I discovered this magazine when I was looking for child-friendly publications for a spooky poem I'd written for a Halloween last year. The poem was part of a Spooky Stories night that I was attending and it had been sitting on my laptop ever since.
When I signed up for Duotrope earlier this year I came across a number of children's magazines and remembered my poem. I read the guidelines and thought that my piece would be perfect. Stinkwaves stood out among that list and I decided to read their guidelines. My heart sank when I saw that they were looking for poems 50 lines max. Rather than letting it go, I decided to email the editor with the first 50 lines of my poem to see what she thought. I explained that I had a poem that I felt would be perfect for their magazine, but that it was 147 lines and their guidelines stated 50 lines max. I concluded my email with the first 50 lines of my poem and stated that I would be happy to submit the full piece.
Five days later I received a reply asking for the full poem and that it might be an excellent fit for the Autumn Edition of the magazine.
I sent the full poem at the end of May and waited. At the beginning of July I received the reply I was waiting for:
[su_quote cite="Stinkwaves Magazine" url="http://www.handersenpublishing.com"]We would LOVE to use your poem, I really liked the suspenseful nature of it, the countdown is awesome![/su_quote]
She also stated that they would love to include images with the piece and if I knew or was an artist. My friend Audrey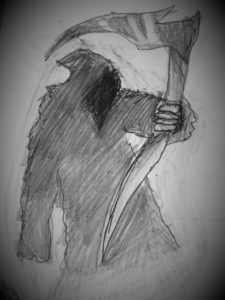 immediately came to my mind and my rescue and agreed to create the sketches required. I emailed the editor letting her know the good news. Further emails followed and I also happened to mention that my daughter was an artist and was hoping to become an animator when she was older. Next thing I know, my daughter is being asked to do some sketches too and these are also featured in the Stinkwaves Fall 2016 Edition. I am so proud of her and so excited to see how they turned out in print. You can see one of her sketches to the right of this paragraph.
It's been a long wait since May but I am delighted to say that that magazine has now gone live and my poem "All Hallow's Eve" is a featured piece and includes the sketches that were created to go with it by my artist friend Audrey. My daughter Emma's sketches are included throughout the magazine.
I have to say. Out of all the publications so far this year, this is the one I am most excited about. I followed my instincts and emailed the editor even though my poem didn't fit their guidelines. It worked out really well and I guess it just goes to show that editors are open to publishing something even if it doesn't fit their guidelines once they love it.
More About Stinkwaves Magazine
You can find out more about the Stinkwaves Magazine by visiting their website. They publish everything from adventure stories to fantasy and folklore. They also publish all kinds of illustrations and artwork too. Do keep in mind that this is a magazine for children so no horror, violence, etc.
They publish fiction from 300 words up to 1500. Poetry 20 – 30 lines for standard poems and 50 lines max for narrative poems. Full details can be found on the Stinkwaves magazines submissions page.
Buy Your Copy of Stinkwaves Today
The Stinkwaves Magazine is available in paperback and on kindle and can be purchased via Amazon, Createspace, and from the publisher's website. I have included the links below. The Amazon links are affiliate links so if you do purchase a copy, Amazon will treat me by giving me a few cents.
Stinkwaves Fall 2016 Available from Handersen Publishing – www.handersenpublishing.com
Amazon US Paperback $7.99 (qualifies for free shipping on orders over $25 of books) – http://amzn.to/2dz4I47
This is also part of the matchbook program, so if you buy the paperback on Amazon you can download the eBook for free.
Amazon UK Paperback £5.32 – http://amzn.to/2dsFNTA
Amazon Kindle US – $2.99 – http://amzn.to/2dsG60z
Amazon Kindle UK – £2.31 – http://amzn.to/2d3ILLD
The kindle version will be available for free for three days October 1st – 3rd
Createspace – $7.99 – https://www.createspace.com/6501441
Until next time,
Amanda